---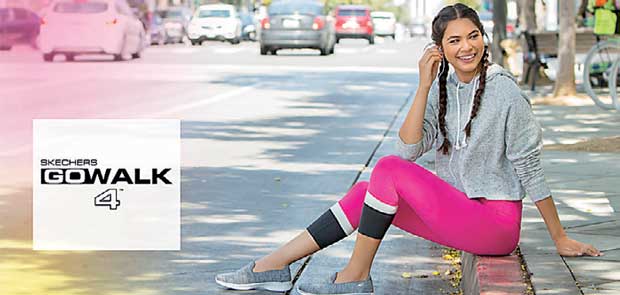 Walking is commonly regarded to be one of the best methods through which we could combat the adverse health conditions associated with a largely sedentary lifestyle.
Being one of the simplest yet most effective forms of exercise, just a 30-minute brisk walk can greatly improve our health and trim our waistlines.
The recently unveiled Skechers GoWalk 04 series provides us with a further incentive to walk more in our day-to-day lives by offering footwear that presents exceptional fit, comfort, and support, while allowing us to feel both confident and stylish at the same time.
Recognizing that comfort is instrumental towards producing an enjoyable walking experience, Skechers has specially designed the Goga Max insole for the GoWalk 04 range. This insole offers high-caliber cushioning and support as well as a roomier fit for any foot type.
The Goga Max also greatly enhances the shock-absorbency of the shoe, thereby, mitigating the effects of hard surfaces on your feet, ankles, knees, and hips.
Plus, this unique insole infuses the Skechers GoWalk 04 series with high posturepedic and orthopedic comfort value by providing an even balance and grip on the floor, and offering instant pressure relief. Thus, Goga Max insole makes the Skechers GoWalk 04 range perfect for individuals, ranging from young adults to senior citizens, who desire to get out and walk more.
The 5GEN midsole design with an advanced mesh upper and bamboo lined footbed makes the Skechers GoWalk 04 perfect for our tropical weather. This is due to the fact that the highly responsive 5GEN midsole provides immense energy return, and causes the shoe to be light, flexible, and breathable. Since our feet naturally swell in response to the heat, the advanced mesh upper expands along with our feet to ensure that we experience strong support without feeling constricted. Also, the bamboo lined footbed wicks away both sweat and moisture to inhibit the production of bacteria and foul odours.
For those who are struggling to include a separate fitness routine into their busy schedules, the Skechers GoWalk 04 offers flexible and versatile attributes that make the footwear amenable to any type of task or function. The streamlined design featuring the Goga pillars outsole enables you to squeeze in more walking whilst working, shopping, going out or spending time with friends and family. Further, this range comes in an ample array of brilliant designs and colours that will flawlessly complement your look for the day.