---

International fans innovator Casals of Spain recently hosted cocktails for potential Sri Lankan customers at Waters Edge. The event was organised by Casals' sole representative in Sri Lanka, Sirocco Air Technologies, one of the most experienced ventilation solutions providers in the country.
Sirocco is the sole representative of Casals of Spain for Sri Lanka, Maldives and Bangladesh.

Importantly, the event also featured a well-received presentation by Casals of Spain Senior Engineer Vito Galiota wherein he showcased this historic manufacturer's experience dating back to 1881 including its extensive, high quality product portfolio of industrial, commercial and domestic fans. Further, Galiota indicated that Casals is a member of the international Air Movement and Control Association (AMCA) with "ISO 9001:2008" accredited production facilities across several regions in Spain, and an overall production capacity of more than 60,000 products per year sold in Europe and abroad.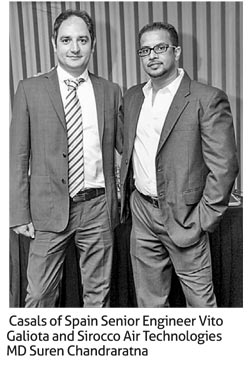 He additionally highlighted a number of recently completed large scale projects, such as underground ventilation for a Metro rail station in Malaga, Spain, as well as many projects in Dubai including Automotive and Cement manufacturing plants, high-rises and even a Ritz Carlton Hotel Expansion.

"Sirocco is a highly experienced ventilation solutions provider that has worked with Sri Lanka's top manufactures in the fields of FMCG, apparel, tea, food and more. Our strong and enduring partnership with Casals of Spain enables us to offer high-quality European fans to our local clients, thus ensuring they are able to exceed stringent industrial and commercial requirements. Our value-added partnerships, as well as our focus on ethical business practices and customer-centric Return on Investment (ROI), are no doubt key factors in our continuing success," said Sirocco Air Technologies Managing Director Suren Chandraratna.