---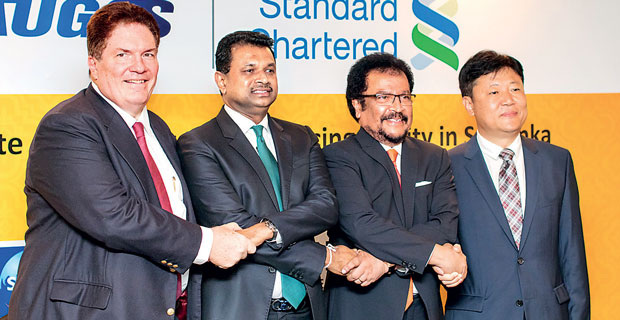 From left: Standard Chartered Sri Lanka CEO Jim McCabe, Laugfs Holdings Chairman W.K.H. Wegapitiya , Managing Director Thilak De Silva and Sinosure Deputy General Manger Guo Yilin at the ceremony held to mark the project financial in Colombo, last Friday
Laugfs Gas PLC and Standard Chartered recently announced the first ever private sector financing facility in Sri Lanka supported by China Export & Credit Insurance Corporation (Sinosure) to the tune of US $ 20 million for the 30,000-metric tonne (MT) Laugfs LPG Import & Export Terminal in Hambantota.

As a principal party to this transaction, Standard Chartered acted as the coordinating bank, sole facility arranger and lender for the financing facility.

The liquid petroleum gas (LPG) storage terminals by Laugfs Terminals Ltd., a subsidiary of Laugfs Gas PLC, is being built with an investment of US $ 80 million and will be one of the largest LPG import and export terminals in South Asia.

"This marks a significant milestone for our LPG Terminal project, which is well on track to be commissioned in the 2nd half of 2018," remarked Laugfs Holdings Chairman W.K.H. Wegapitiya.
"Once completed, the Laugfs terminals in Hambantota will garner tremendous economic benefits to our country by helping to position Sri Lanka as a central energy hub in the region. Therefore, this financing facility's significance will extend to a national and regional level."
The Hambantota port is located on a strategic sea route in close proximity to some of the largest emerging LPG markets in the region, such as Bangladesh and Myanmar. Strategically located at the Hambantota port, the Laugfs LPG terminal will operate as a central hub for LPG importing, re-exporting as well as the provisioning to retailers.

Jim McCabe, Chief Executive Officer, Standard Chartered Sri Lanka, commenting on the transaction said, "We are pleased to arrange and structure a financing facility supported by Sinosure for the Laugfs terminal project, serving the best interests of both parties in a mutually beneficial arrangement.

This is a landmark occasion for Standard Chartered, as the first international bank to sign a strategic cooperation agreement with Sinosure. This transaction is a result of the excellent working relationship we have developed over the years with SINOSURE and Laugfs, supported by our longstanding presence in both China and Sri Lanka."

Sinosure is a state-funded policy-oriented insurance company, which provides medium and long term export credit insurance, overseas investment (leasing) insurance, bonds and guarantees concerning foreign trade and a range of other related products.

Together with a dedicated team based in Beijing, Standard Chartered is ideally positioned to support SINOSURE backed financing to the Sri Lankan private sector. The bank has a very active presence on the Chinese corridor managed by global subsidiaries under its commercial and institutional banking section, with 46 of the 'Belt and Road' countries within its global footprint.

"The Laugfs LPG terminal project will become a catalyst that contributes to the future economic prosperity of Sri Lanka. The strategic location of the terminal in the midst of the world's largest shipping routes will undoubtedly be an enormous advantage that the company can leverage on. We are pleased to be part of this visionary endeavour with the first ever such private sector finance facility in Sri Lanka," commented Sinosure Deputy General Manager, Guo Yilin. Constructed by China Huanqiu Contracting & Engineering Corporation (HQC), the first phase of the Laugfs LPG terminal will be of 30,000MT storage capacity, with plans to extend to 45,000MT in phase two.

Once completed, the facility will consist of above-ground spherical LPG storage tanks, each with a 6,000m3 volume. With the proposed cargo heating system at the existing jetty, the terminal will be well-equipped to accept very large gas carriers (VLGCs) with refrigerated or pressurized cargo.
"As a company with strong Sri Lankan roots, we are very pleased to note the multiple benefits the Laugfs LPG Import & Export Terminal will yield to our country. These will range from foreign revenue generation and employment creation to the development of ancillary industries to support the terminal's activities.

I am thankful to all the teams involved in this historic transaction from both Laugfs and Standard Chartered for their exemplary contribution to initiate and complete a transaction of this nature," remarked Laugfs Holdings Group Managing Director, Thilak De Silva.

Laugfs has been strengthening its energy presence within the region over the recent few years with the expansion of its LPG downstream businesses to Bangladesh, rapid expansion of its LPG vessel fleet under Laugfs Maritime, and the setting up of its energy trading arm in Dubai.

The Laugfs LPG Import & Export Terminal under construction in Hambantota is set to further solidify its position as a global energy conglomerate.