---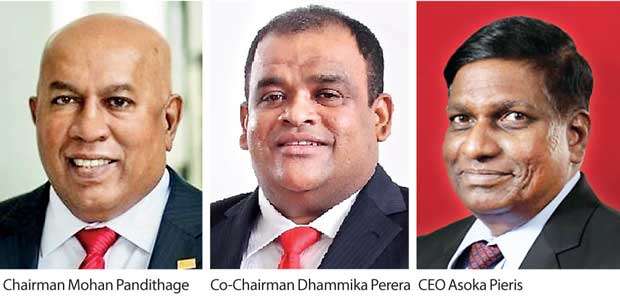 Singer Sri Lanka PLC reported modest growth in revenues and profits for the quarter ended on June 30, 2018 (1Q19) as the consumer durables retailer saw a rebound in business in all its segments, as the rural agricultural economy is seen recovering from last year's crop losses.

Singer reported Rs.15.1 billion in revenue for the April-June quarter, up 15 percent year-on-year (YoY).

The group Chief Executive Officer Asoka Pieris attributed the top line growth to expansion in the rural economy due to improved harvest, especially during
April and May.

But he said the demand from urban areas was lower due to the poor consumer sentiment and weak disposable incomes.

"Consumer income levels and sentiments in urban areas were lower due to higher fuel costs, personal taxes and interest rates continuing to be at high levels," Pieris said in an earnings release.

Singer Sri Lanka's share ended Rs.4.60 lower at Rs.35.20 at yesterday's close.

Singer Sri Lanka's top line performance stemmed mainly from the smartphones category and the group spent heavily on advertising and promotion to push sales via its extensive retailer network, mobile shops and exhibitions.
Singer Sri Lanka holds the authorized dealership for Chinese smartphone maker, Huawei. Huawei became the world's second largest smartphone seller in the second quarter, after it surpassed American giant, Apple Inc.

Singer Sri Lanka's IT products segment, which most likely captures the smartphone sales, reported Rs.222 million before tax profit on a revenue of Rs.4.61 billion for the quarter under review, up from Rs.198.4 million in profit and Rs.3.1 billion in revenue reported for the same quarter in 2017.

Meanwhile, the consumer electronics division reported a before tax profit of Rs.135 million on revenue of Rs.1.79 billion.

The consumer durables sector is highly susceptible to market conditions and the demand for white goods sinks faster than the decline in disposable income while the demand takes time to pick up when the economy recovers.

Singer Sri Lanka said it could not pass on the full impact of the rupee depreciation against the US dollar due to slack market conditions.

Meanwhile, Singer Sri Lanka, which is famed for its namesake sewing machine, saw its sewing division reporting a profit of Rs.40.2 million on revenues of
Rs.582.6 million.

The group's financial services business, which mostly facilitates hire purchase of its white goods, did Rs.474.2 million in profits on revenue of Rs.1.77 billion.
The group furniture sales business reported profits of Rs.45.3 million on revenue of Rs.816.6 million, while the home appliance business – the largest by revenue – posted a profit before tax of Rs.341.3 million on revenue of Rs.4.94 billion.

For the quarter, the group reported earnings of Rs.1.11 a share or Rs.418.8 million, up 8.7 percent YoY.

In September 2017, Hayleys PLC-led consortium of investors backed by Sri Lankan business mogul Dhammika Perera acquired up to a 82.81 percent stake in Singer Sri Lanka PLC from Retail Holdings (Sri Lanka) BV in a nearly Rs.15 billion deal mostly funded by bank borrowings.

By June 30, 2018, Retail Holdings (Sri Lanka) BV held a 9.47 percent stake in the company being the second largest shareholder.