---
The earnings at Sri Lanka's leading white goods seller and lifestyle retailer, Singer Sri Lanka PLC, plunged during the June quarter (1Q20) amid sluggish consumer demand and Easter bombings, the interim financial accounts released to the Colombo Stock Exchange showed.

The group earnings for the period under review fell 7 cents a share or to Rs.27.3 million, compared to earnings of Rs.1.11 per share or Rs.418.7 million reported for the same period last year.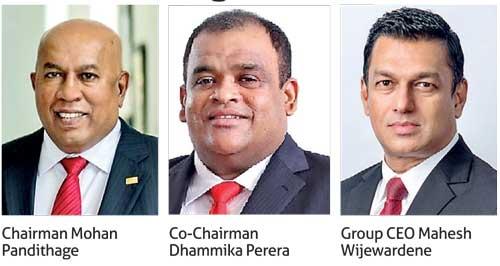 The group was able to maintain its gross profit as the cost of sales fell at a faster rate than the revenue.

The group revenue for the period fell 8 percent year-on-year (YoY) to Rs.13.8 billion, while cost of sales also fell 14 percent YoY to Rs.9.1 billion, resulting in a gross profit of Rs.4.2 billion, up one percent YoY.

However, the operating profit fell 17 percent YoY to Rs.1.06 billion amid higher selling and administration expenses and impairment losses. The company has 437 retail stores as well as a fast-growing e-commerce platform.
The finance cost of the group also rose 53 percent YoY to Rs.895.7 million amid higher group borrowings and interest cost derived from the lease liabilities recognised in line with the new SLFRS 16 standard.

Singer Sri Lanka in a statement attributed the poor quarterly performance to consumer postponing purchasing decision due to income limitations, current market and economic conditions and the Easter Sunday attacks on April 21.

"We experienced a challenging quarter with Singer being susceptible to market and economic conditions more than others.

However, we have initiated several proactive and innovative strategies, which aim to enhance the earnings growth and profitability in the near future," Singer Group CEO Mahesh Wijewardene said.

A majority of the Singer group's subsidiaries also faced a challenging quarter.

The parent company recorded a profit of Rs.11.5 million, against Rs.199 million in the previous year, while Singer Finance (Lanka) PLC reported a profit of Rs.49 million, compared to Rs.117.6 million last year.

Regnis (Lanka) PLC group profit was Rs.20 million during the quarter, against Rs.20.6 million a year ago, while Singer Industries (Ceylon) PLC recorded a loss of Rs.1.3 million, against a profit of Rs.4.2 million made in the previous year.

"Singer's 1Q was a difficult quarter for consumer durable market segments. Improving the operational performance of the company together with various initiatives, we aim to maintain a positive outlook for the rest of 2019," Group Chairman Mohan Pandithage said.

The Hayleys group entities hold a 90.43 percent stake in Singer Sri Lanka, while Hayleys Co-Chairman and billionaire businessman Dhammika Perera directly owns 1.85 percent in the company.