---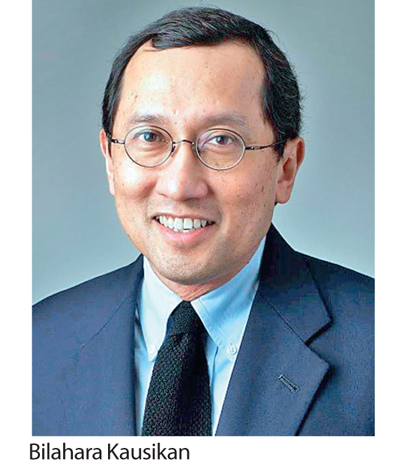 The annual flagship event of the CFA Society Sri Lanka, the CFA Sri Lanka Capital Market Awards, which each year features eminent personalities whose knowledge and expertise on the global markets is legendary, this year invites Foreign Affairs Ministry Singapore Ambassador-at-Large Bilahara Kausikan as its keynote speaker.

Adding immense lustre to these awards to be held on July 26 at Cinnamon Grand, Kausikan's experience as a former First and Second Permanent Secretary and subsequently Permanent Secretary to the Foreign Affairs Ministry, as well as his work purview as Permanent Representative to the United Nations in New York forms a strong foundation for discussion, dialogue and debate.
He has also served as the Ambassador to the Russian Federation and augmented his academics at the University of Singapore and Columbia University. Kausikan's wide global and regional experiences will undoubtedly add immense value in facilitating continuous market development and promoting best practices, ethics, education and professional excellence, well aligned to this year's theme, 'A difference that matters'.

The formal proceedings also include a highly interactive panel discussion based on Kausikan's observations on the evolving geopolitics of the Indian Ocean region – how should Sri Lanka position itself to exploit political and economic opportunities.

Endorsed by the Securities and Exchange Commission, the fundamental objective of the awards, being held for the fifth consecutive year, is to inspire and incentivize capital market participants and members of wider stakeholder groups to strive for standards of excellence. The evening will host regulators, stockbrokers, analysts, CFA Charterholders and senior management of listed companies.
The awards have recognised Gold, Silver and Bronze winners in three categories in the years past, namely the Best Research Report, Best Corporate Investor Relations and Best Stockbroking Research Team. This year, a fourth category was introduced, The Best Unit Trust Fund, to reflect the increasing need to cover fund management discipline. It intends to reward unit trust managers whose priorities are investors, with performance, benchmarking, investment process, trading practices, risk management, compliance and disclosures being the criteria.

LOLC Securities, which won the Gold last year for the Best Research Report done for Central Finance Company, highlights that the recognition helped LOLC Securities strengthen reputation and attract clients who discern accurate research. Head of Research Shehan Bartholomeuz, who is now head of the company, a career move resulting from the award, said, "These awards not only recognise hard work, but also helps business expansion, while pushing individual analytical standards ultimately permeating to the overall quality of research in the industry."

Post shortlisting, the judges will evaluate the top reports on incisive criteria including industry overview and competitive landscape, company's value drivers, dynamics, financial analysis, valuation, risks and recommendation.

John Keells Stockbrokers Head Navin Ratnayake echoed these sentiments stating that having the Best Stockbroking Research Team last year has definitely helped raise the company's profile and enhance client interaction. "Equity research is not easy and it's great to be recognised for our efforts," he said adding, "It is hugely important that the quality of research is acknowledged and recognised by reputed organisations like the CFA Society. Capital markets in Sri Lanka still have a long way to go in terms of development and are valuable in improving confidence and increasing the sophistication of our equity market."

The process for choosing the Best Stockbroking Research Team includes a survey conducted among user groups and evaluation criteria based on coverage, forecast and stock picking accuracy, industry knowledge, timeliness and responsiveness.

Sixteen companies will be shortlisted for the Best Investor Relations Awards based on the strength of IR practices and responsiveness using accessibility of management, quality of disclosure and transparency, fairness in disclosure, consistency and company reaction to unfavourable reports.
In winning the award last year, Dialog Axiata Group Chief Financial Officer Lucy Tan reflected that the purposeful engagement with shareholders, potential investors, analyst community and broader stakeholders has enabled the company to gain regard and recognition among shareholders and stakeholders.

"This recognition for the investment relations function by CFA demonstrates that companies have improved their focus and purpose of that function, which has inevitably resulted in a positive bearing on organisations and the efficient functioning of
equity markets."