---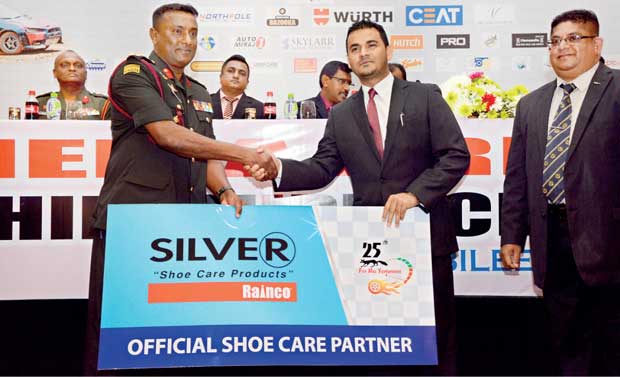 The famous brand of Rainco (Pvt.) Ltd, Silver, has come forward as one of the main sponsors of Sri Lanka's most popular motor and motorcycle racing event Foxhill Super Cross Diyatalawa.
The Foxhill Super Cross, which is organised by Sri Lanka Army's Military Academy for the 25th time, will be held at the Nariyakanda racing track
today.
A significant feature this year is that a name that goes parallel to the silver jubilee, Silver being one of the main sponsors of Foxhill Super Cross, which is also celebrating its silver jubilee this year, said Rainco Private Limited Chief Operating Officer Aroos Ahmed, addressing a media briefing on Foxhill Super Cross recently.
Silver products, which have a proven track record in the protection and maintenance of footwear, will also be officially unveiled to the consumer public at the Foxhill Super Cross,
he said.
"The Silver brand, which will be introduced to the market under the theme 'Walk with Confidence', is a high-quality product that could easily outshine competitor products available in the market. The main reason for this is Silver products are manufactured in a top footwear protection product manufacturing facility in Turkey sans artificial chemical inputs using natural Palmyra wax material imported
from Germany.
Therefore, by using Silver products the customers not only can retain the pleasant look but ensure the safety of their footwear. Therefore, we believe that the Silver Jubilee of the Foxhill Super Cross is the opportune time to take the message to the public about the advent of such a reliable superior brand to the market," added Ahmed.
Foxhill Super Cross is organised annually to obtain the necessary capital that is required to maintain the infrastructure and training facilities by the Lanka Army's Military Academy to train the military personnel and to be par with Asia region's military
training facilities.
Foxhill Super Cross this year will consist of 12 motor car events and 12 motorcycle events and special trophies will be presented to the best motorist and motorcyclist at the end of the event.