---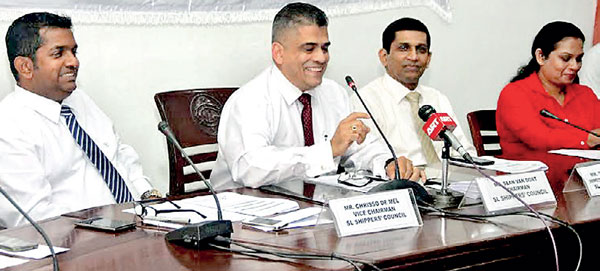 From left: SLSC Vice Chairman Chrisso de Mel, SLSC Chairman Sean Van Dort, SLSC Immediate Past Chairman Dinesh de Silva and SLSC Secretariat's Manori Dissanayaka
By Chandeepa Wettasinghe Despite increased government interaction with the industry, promised action has been less than forthcoming, the Sri Lanka Shippers' Council (SLSC), which is celebrating its 50th anniversary this year, said at its AGM this week.
"We are very disgruntled at the speed at which things are taking place. The speed is not even snail pace. We expected greater reforms, greater transparency, but we find ourselves fire fighting every day," SLSC Chairman Sean Van Dort said.
The government came into power promising reforms and transparency. The maritime sector had continuously called for new regulations. While a Right to Information Bill was passed in parliament recently, the process of obtaining information is long, and economic data may be censored.
Van Dort noted that there is no consistency with 'what is said today is changed tomorrow', but the SLSC will continue to engage with the government to ensure sustainability for the shippers. "We will continue as an association to lobby the government agencies and engage with them. We can only engage with these people. They cannot right the wrong of this country, but we can engage with them to ensure a fair and equal trade practice is as important as good governance," he said. Van Dort noted that agencies such as the Board of Investments and the Sri Lanka Customs have drastically changed their processes for the better over the past several years due to the commitment of both the past and present governments to help the import/export trade. "A consultative process is there where we also can make our voice heard," he said. However, he said that some within the industry are now lobbying the government to remove fair trade practices established through government regulations in 2013 and 2014 relating to delivery order fees. "We have put a major demon to rest, but that demon is trying to raise its hand, leg and head. We are aware that certain quarters who have got affected by this gazette notification are still lobbying to see if they could turn it on its head," Van Dort said. He said that those who are lobbying are infringing regulations by charging more than the maximum inclusive price for delivery order fees.
"They're adding costs by charging for things like container washing. When I go to a hotel to eat, they aren't going to put extra charges for washing the plates, are they?" Van Dort mused. He added that the government should also focus on foreign shippers who are trying to game the system by quoting penalty fees and lodging fees which are higher than freight charges, by saying that they have become victims of the Safety of Life at Sea regulations that were brought in recently.