---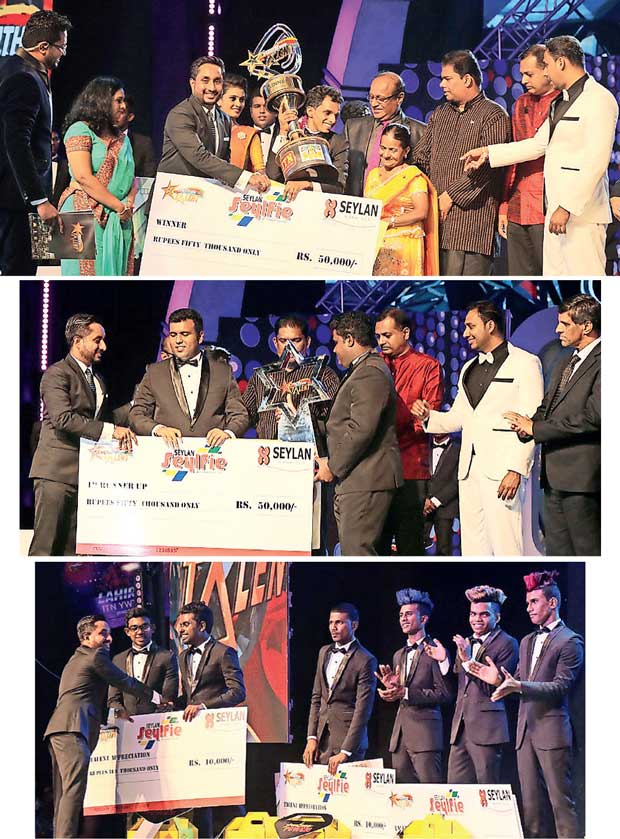 Sri Lanka's youth are immensely talented and a preview of their wondrous talent was glimpsed at the 'ITN Youth with Talent' grand finale, which held the audience enthralled. As the official banking partner of the show, Seylan Bank awarded cash prizes to the winners and all finalists of 'ITN Youth with Talent' in recognition of their capabilities and to encourage the unique skills and talents of young Sri Lankans.
The bank with a heart, Seylan Bank, has supported numerous Sri Lankans to attain their dreams, always lending a hand to scale greater heights. Whether it is supporting small and medium enterprises (SMEs) around the island or providing resources through partnerships, Seylan Bank believes that a country's progress is in the hands of its people and always strives to encourage Sri Lankans who blaze their own trail and make a difference.
After a close competition, 28-year-old Dileepa Dinush from Kalutara emerged triumphant and was awarded the grand prize at the talent competition for a dazzling circus stunt which captivated the judges and the audience at a packed venue.
Twenty-year-old Shashika Diyamantha Samarasinghe and Hasaja Kanchana Samaranayaka (Samare and Samare) from Kandy and 25-year-old Lahiru Maduranga from Matara emerged second and third, respectively.
Seylan Bank's Seylan Seylfie, the bank's innovative youth savings account, has been an enthusiastic partner for the islandwide talent show. It is a proponent of bringing youth talents to the fore and helping the next generation of Sri Lankans achieve their dreams.
As the official banking partner for the show, Seylan Seylfie leveraged its considerable digital presence to attract and draw attention to the talents of the contestants of the national show, enabling a platform for them to showcase their potential.
ITN Youth with Talent was a talent show in partnership with the Sri Lanka Youth Council to highlight the talents and capabilities of Sri Lanka's younger generation and to prove that talent transcends barriers. The talent show made an islandwide call last year and gained a staggering response.
After the initial rounds, the most talented youth were selected from 25 districts around the country. After several rounds of elimination and wonderful performances of great skill, the final 11 contestants went on to compete in a grand finale, vying for the grand prize. The grand finale was held last week at the Maharagama Youth Centre and telecasted live.
"Congratulations to the winners of the ITN Youth with Talent and our warmest wishes go out to the finalists and contestants of the show. Seylan Bank firmly supports and encourages those who dare to take a leap of faith, climb great heights and make their mark. It takes courage and confidence to showcase your skills on national TV and we, at Seylan Bank, recognize your potential and capabilities and wish all contestants success in their future endeavours. We are proud to have been part of your journey," commented Seylan Bank Chief Manager Marketing Gamika De Silva.
Seylan Seylfie is a state-of-the-art digital bank account from Seylan Bank especially designed for Sri Lankan youth. The youth account offers unique benefits for the tech-savvy Sri Lankan and is a brand-new banking experience designed for ease and convenience. Unique features of the Seylan Seylfie savings account is digital interest (the ability for savings account interest to be credited to your mobile account), social banking and shopping discounts. Rewarding customers who are keen to achieve their dreams, free cash grants are awarded during momentous life milestones while student/business loans are also available for educational and professional assistance.