---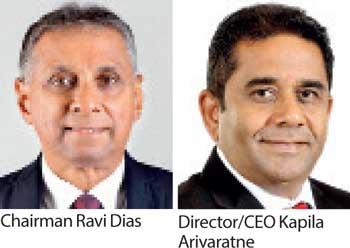 Seylan Bank PLC reported higher earnings supported by modest growth in new loans during the quarter ended in March 31, 2019 (1Q19) - a period characterized by an extremely sluggish economic activity.
The bank with assets of little over Rs.475 billion reported earnings of Rs. 2.16 a share or Rs.817.5 million during the three months compared to earnings of Rs.2.00 a share or Rs.755.9 million in the corresponding period in 2018.

The net interest income, broadly the difference between what the bank received from its loans and what it pays for the deposits it raised, increased by just under 5.0 percent year-on-year (YoY) to Rs. 4.49 billion in the quarter.

The bank on a standalone basis grew its loans by Rs.10.1 billion to Rs.346.9 billion and the deposits by Rs.9.5 billion to Rs.367.1 billion during the three months.

Seylan Bank was the first licensed commercial bank to release the interim results after the first quarter earnings season kicked off two weeks ago.

After largely muted earnings in 2018, Sri Lanka's banks appear to be off to a rough start due to a host of challenges from sluggish demand for new loans from across all sectors, rising non-performing loans, higher provisions against possible bad loans and an economy which has been hobbling for far too long.

In a bid to revive the moribund economy which slowed down to a dismal 1.8 percent growth during the final quarter, last year, the government last week came up with a raft of new measures from ceiling rates for deposit and go-easy policy on payment due advances from small and medium term enterprises.

The Central Bank is largely expected to cut rates in the next monetary policy meeting as the inflation remained in check.

The headline inflation for April rose to 4.5 percent on both food and non-food price pressures but remains well within the desired levels providing adequate wiggle room for the Central Bank to ease the rates if required.

Meanwhile, Seylan Bank recorded a net interest margin of 4.19 percent for the quarter, largely unchanged from last year's 4.24 percent.

The gross non-performing loans ratio, the key gauge of the bank's asset quality, was 5.96 percent by the end of March, barely changing from three months ago.

The bank in April raised Rs.5.0 billion in a subordinated debenture anchoring its Tier II capital base.

Seylan Bank share ended Rs.1.20 or 2.15 percent higher at Rs.57.00, yesterday.

The government via Sri Lanka Insurance Corporation, Employees' Provident Fund, Bank of Ceylon and Employees' Trust Fund Board holds 34.49 percent stake in the bank while Brown & Company and LOLC Investments Limited in concert hold 23.42 percent stake being the second largest shareholder of the bank.