---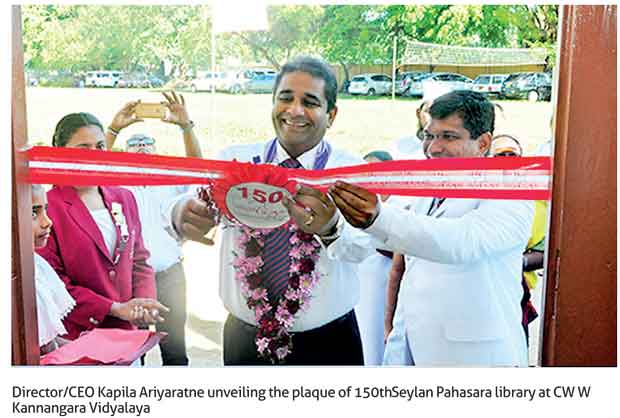 Seylan Pahasara, Seylan Bank's flagship CSR initiative which has transformed many underprivileged school libraries with access to quality education, reached milestone achievement with the opening ofthe 150thPahasaralibrary at C W W Kannangara Vidyalaya amidst distinguished gathering.

With this endeavor, Seylan Bank has enhanced the infrastructure facilities of the Kannangara library by donating books and computers,enabling the students with the latestdownloading facility of E-books along with other interactive learning platforms.

The bank has also furnished the library with a multimedia projector providing students to engage with interactive educational and productive learning modes.
Embarked on 01st March 2013, 'Seylan Pahasara' project was inauguratedat Anuradhapura when the bank commemorated its 25 years of notable existence,showcasing resilience and living to its promise of 'Bank with a heart'. Coherently following the forward steps, the 100th milestone of 'Seylan Pahasara' library was marked on 29th March 2016 at Weerapuran Appu Model School Moratuwa.Accordingly the journey continuedto empower students located across the island with positive feedback received from the Ministry of Education as the project hasbeen delivering real supplementary value tailor made to fill gaps of total quality education of Sri Lanka.

Commenting on the Achievement, Kapila Ariyaratne, Director/CEO of Seylan Bank PLC, asserted, "We at Seylan Bank consider 'Seylan Pahasara'as a core initiative ofthe Bank's corporatesocial responsibility. With this achievement, Seylan Bank has a real business case and a success story to share as a 'Bank with a Heart' as it always considers delivering an unmatched services to its customers,with greater emphasis to their businesses and options of progressive development. With Seylan Pahasara,not only we have been able to empower underprivileged libraries with quality education but also transformed the lives of thousands of children,enabling them to evolve with modern technology and latest educational trends.

Kapila Ariyaratne added that "I am happy to mention that while the target is set to reach 250 libraries by year 2019, Seylan Bank has already started focusing on reviving the libraries already completed on rotational basis, which will undoubtedly ensure long term impact of the initiative, sensitizing every stakeholder to engage proactively and utilize these facilities farsightedly to derive benefits in the best interests of students, who are our future and hope"

Liaising with zonal and provincial directors of education, Seylan Bank has been able to extend its support to every district of the country thus equip underprivileged school libraries with adequate facilities identifying the needprudently."

Acknowledging the success of Seylan Pahesara, Assistant Director of Education (Commerce) P. D. Weerasinghe expressed that "Seylan Bank has chosen the most appropriate initiative to support 'Smart Classroom' concept which is the latest development backed by the Ministry of Education that avails every student the proximity to state of the art learning experience aligned to global landscape."

Seylan Bank's dream of seeing students excel in their education and becoming productive citizens fortified with greater positive attitudes of which are instrumental resources to align with development map of Sri Lanka is now enabled through 'Seylan Pahasara' as Seylan Bank, students, parents, school authorities and authorities of Education Department are put together virtually and fostered to create greater synergy towards a common purpose.