---
Seylan Bank PLC recorded a net profit of Rs.818.5 million or Rs.2.37 a share for the quarter ended March 31, 2017 (1Q17), up 22 percent from a year ago, the interim financial accounts released to the Colombo Stock Exchange showed yesterday.
The net interest income rose by 21 percent year-on-year (YoY) to Rs.3.56 billion, while the net fee and commission income rose by 25 percent YoY to Rs.867 million.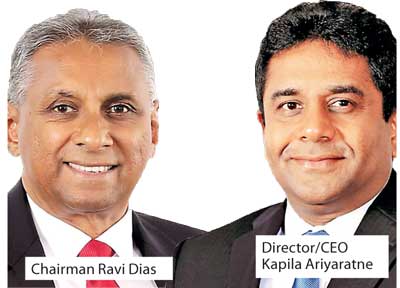 However, margins came under pressure as the net interest margin narrowed to 3.92 percent from 4.19 percent three months ago.
Seylan Bank was seen funding its loan book growth by way of repo and money market borrowings, which come at a relatively low cost than customer deposits.
The growth in loans and customer deposits recorded by Seylan Bank during the quarter in fact tells a lot about the dampened appetite for credit and lower disposable incomes of the people after the back-to-back increase in interest rates and rising price levels of the slowing economy.
The bank, with an asset base of Rs.371 billion, barely saw its deposits growing, while its loan book also recorded muted growth of just 2.72 percent.
In other words, there were only about Rs.600 million worth of new deposits that came in while the new loans granted were about Rs.6.6 billion.
By end-March 31, 2017, the bank on a standalone basis had a total deposit base of Rs.274.1 billion and a gross loans and advances base of Rs.248.7 billion.
About Rs.4.5 billion out of the Rs.6.6 billion new loans came from overdrafts, which also implies how trying the economic conditions have become, as the businesses are struggling to manage their cash flows amid lowering business volumes.
In 2016, Seylan Bank gave Rs.43.3 billion loans, roughly about Rs.10 billion loans a quarter on average.
Meanwhile, both realized and unrealized losses of the bank from the investments in the government securities portfolio were substantially reduced during the quarter under review.
Seylan Bank was one of the hardest hit lenders for its hefty investments in government securities during the last two years as the yields of such securities rose.
The unrealized loss of the bank's available-for-sale financial assets, largely consisting of government securities, during the same quarter last year was a hefty Rs.2.4 billion but in 2017, this has turned a gain of Rs.47.5 million.
Meanwhile, provisions made against possible bad loans rose from Rs.84.3 million to Rs.345.7 million.
The gross non-performing loan ratio showed marginal uptick from 4.47 percent to 4.91 percent. It is not unusual for the asset quality to wane when interest rates rise because the fixed income borrowers find it challenging to service their loans when the banks are compelled to increase the loan interest rates to maintain margins.
The low-cost deposit base measured through the current and savings account (CASA) ratio also dropped to 31.23 percent from 32.5 percent in 2016 and 36.3 percent in 2015.
As at March 31, 2017, as the single largest shareholder, state-owned Sri Lanka Insurance Corporation held 15 percent of Seylan Bank, while Brown & Company as the second largest shareholder held 13.87 percent of the bank.
State-run private sector pension fund Employees Provident Fund held 9.86 percent.