---
Seylan Bank PLC reported strong financial performance for the three months ended in March 2021 (1Q21) as the company treaded cautiously expanding its loan book while keeping a closer tab on the asset quality, which improved during the period.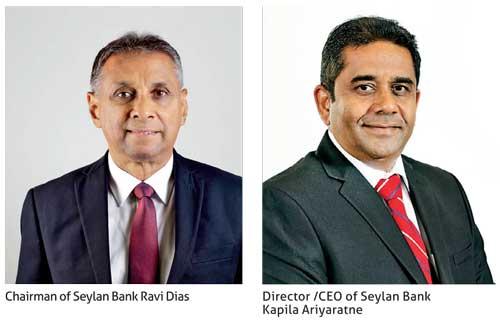 Being among the first batch of companies to release the March quarter results, Seylan Bank reported a net interest income of Rs.5.6 billion for the three months, up 17.42 percent from the same period last year, as the decline in interest expenses surpassed the decline in interest income, helping the bank to improve its net interest margins along the way.

The bank expanded its loan book by Rs.8.0 billion in the three months, a modest growth for a bank of the size of Seylan, recording a growth of 2.0 percent or 8.0 percent annualised growth.

As the bank released funds parked in government securities as loans, with the demand for loans re-emerging, it did better with the net interests margin, which expanded to 4.17 percent from 3.95 percent in December 2020.
The bank also did slightly better with the non-performing loans which recorded a ratio of 6.39 percent compared to 6.43 percent three months ago.

The bank provided as much as Rs.2.2 billion on possible bad loans during the quarter, nearly doubling from what it set aside in the same period last year.

Meanwhile, as expected, the volatile foreign exchange rate enabled the bank to increase its exchange income substantially as reflected in the net other operating income, which rose by 210 percent year-on-year (YoY) to Rs.1.1 billion in the period.
Further, the de-recognition of financial assets also brought substantially higher capital gains, which rose by 166 percent to Rs.185.2 million.

However, the mark-to-market losses on derivatives caused a trading loss of Rs.605.7 million in the March quarter compared to a nominal gain of Rs.6.6 million in the year earlier period.

The fee and commission incomes also recovered with the recovery in loans as such incomes grew by 17.4 percent to Rs.1.16 billion for the quarter.

As a result of both fund and non-fund incomes, the bank reported earnings of Rs.1.81 a share or Rs.967.4 million in the January-March quarter compared to earnings of Rs.1.72 a share or Rs.918.9 million in the corresponding period in 2020.
Seylan raised Rs.6.0 billion in debenture funds this month to bolster its Tier II capital, which will in turn add more heft to loan more funds.

Meanwhile, Rs.5.6 billion were added afresh as deposits during the quarter.

Business magnate Dhammika Perera trimmed his stake in Seylan Bank during the quarter under review to 9.03 percent from 9.89 percent three months ago.