---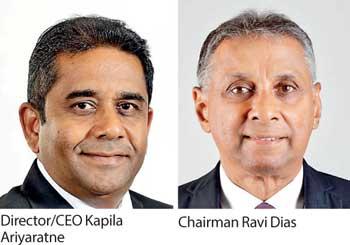 Seylan Bank PLC saw its June quarter (2Q19) earnings hit by flat net interest income and impact stemming from Debt Repayment Levy, the interim accounts released by the bank to the Colombo Stock Exchange showed.

The banking group recorded earnings of Rs.1.71 per share or Rs.647.3 million for the quarter under review, compared to earnings of Rs.1.93 per share or Rs.730.3 million reported for the same quarter last year.

The net interest income grew less than 0.5 percent year-on-year (YoY) to Rs.4.4 billion as interest expenses grew faster than interest income. The net fee and commission income rose 3 percent YoY to Rs.985.4 million.The bank loaned Rs.17.1 billion during the six months ended June 30, 2019 (1H19), recording a growth of Rs.5.2 billion while the deposits also grew by a similar amount at the rate of 4.8 percent.


The bank's current and savings (CASA) ratio stood at 27.91 percent.

The bank's gross non performing loans ratio rose to 6.49 percent from 5.98 percent in December 2019, indicating deterioration in credit quality.

The impairment charges for the quarter under review stood at Rs.1.1 billion, down 8.6 percent YoY.

The bank incurred Rs.209.8 million hit from Debt Repayment Levy during the quarter, which impacted its pre-income tax profit, which fell 14.8 percent YoY to Rs.862.7 million.
Meanwhile, for 1H19, Seylan Bank's earnings remained flat at Rs.1.46 billion on a net interest income of Rs.8.9 billion, up 2.4 percent YoY.

Seylan Bank's total expenses recorded an increase of 6.69 percent to Rs. 6,398 million for the six months due to upgrading and refurbishment of branches, investment made in technology and digital platforms during the period under review, the bank said in a statement.

The bank recorded a return (profit before tax) on asset (ROAA) of 0.89 percent and return on equity (ROE) of 8.51 percent. The bank's net asset value per share as at June 30, 2019 was Rs.99.08 where at the group level it was Rs.103.25.

The government via Sri Lanka Insurance Corporation, Employees' Provident Fund, Bank of Ceylon and Employees' Trust Fund Board holds 34.49 percent stake in Seylan while Brown & Company and LOLC Investments Limited in concert hold 23.42 percent stake being the second largest shareholder of the bank.