---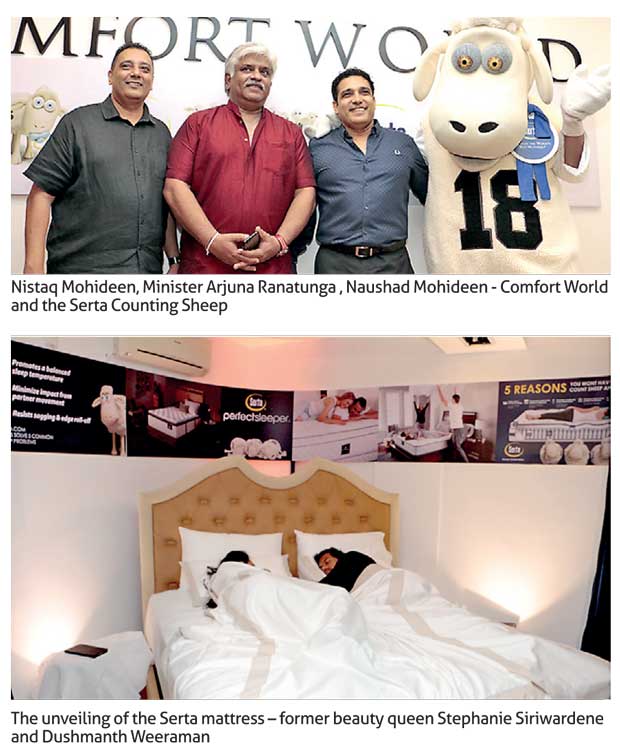 Comfort World International, the market leader in mattress manufacture and retail in Sri Lanka, Maldives and Seychelles, introduced Serta mattresses, the emperor of mattresses to Sri Lanka recently.
Established by Naushad Mohideen 14 years ago, Comfort World as a retail arm is the premium choice for a wide variety of sleep related products, with the entire range being manufactured in their state of the art factory in Ambathale. Naushad Mohideen was in Japan engaged with a research and innovation company when he first got the idea of producing an infection-free mattress. After many years of research and perfection he produced the world's First MRSA [ Methicillin Resisitant Staphylococcus Aureus ] certified infection-free mattress.
Being the patent holder and armed with fresh knowledge, he returned to Sri Lanka in 1997 and started manufacturing and exporting these mattresses to Japan. These were mainly positioned for the Health Care market such as hospitals and senior citizens homes, especially immobile patients suffering from bed sores and secondary infections.
Known in the industry as 'Mattress Naushad' Mohideen is so associated with the production of quality mattresses that his name is now synonymous with his product! Mohideen's area of expertise lies in sleep surface development, especially in the areas of spring, foam and air technology, pressure ulcer prevention (bedsores), and infection control.
Comfort World excels in product development, quality assurance and reliability and have secured the top names in the global industry namely Serta which is positioned as the world's No 1 mattress and therapedic , positioned as the world's No 1 alternative . "Comfort World has the manufacturing license for these prestigious brands and I'm proud to say that we have been the catalysts in enhancing the overall Sri Lankan mattress manufacturing standards",
said Mohideen .
In the case of back and orthopedic problems, Comfort World manufacture a range of mattresses specifically aimed at resolving these issues . "This is our core business. We also tailor make mattresses according to the specific requirements of our customers. We are equipped with ergonomic and body mapping technologies which help us to identify the correct mattress for a specific problem and we are now known for that".
With regards to sleep disorders, Mohideen says, it's all about Science, now aptly termed Sleep Science. "We provide consultancy and customization to educate those suffering from sleep disorders with the use of advanced pressure imaging technology. This helps with mattress solutions that are tailor made to the individual with additional care on correct pillow selection and overall sleep posture correction, providing those with sleep disorders a good
night's rest".
In Sri Lanka for the launch of Serta was Managing Director Serta International, Louis Paige who was laudatory of the manner in which Comfort World was handling both the retail as well as manufacture of the world's best mattresses here in Sri Lanka. Comfort World also presented the first three Serta customers with a token of appreciation. What made the launch of Serta unique was the fact that Serta's iconic 'Counting Sheep' was very much in evidence and played a pivotal role. The highlight of the evening was of course the unveiling of the Serta mattress which saw former beauty queen Stephanie Siriwardene and Dushmanth Weeraman atop the mattress, and they were soon joined by Naushad Mohideen, Louis Paige and of course the spectacular 'Counting Sheep' who lamented the fact that he was now out of work with the arrival of Serta mattresses in
Sri Lanka.
Serta Perfect Sleeper the only official mattress of the National Sleep Foundation and winner of Women's Choice Award 2014-2017 is engineered to help five common sleep problems, namely, tossing and turning, encourages proper back support and alignment, promotes a balanced sleep temperature, minimizes partner disturbance / movement and resists sagging and edge roll off. Serta Perfect Sleeper Innerspring mattresses combine the latest comfort technologies with a state-of-the-art Miracoil innerspring support system. "These mattresses are an ideal solution for those who prefer the look and feel of a traditional mattress with the benefits of advanced comfort and support features", said Mohideen. "Serta iComfort - Serta's newest iComfort mattress, is now designed from the inside out with our most advanced technologies to deliver the cooling comfort and support you need and are available in both memory foam and
hybrid constructions".
Comfort World is the largest supplier of mattresses to the Hotel sector with over 80 percent of hotels being catered to by them. Mohideen is also of the opinion that the increasing number of developments too will see a significant growth in this market, with Comfort World once again having the lion share in this segment as well, including Empire, Monarch, Emperor, On 320, Hilton Residencies, Crescat Residencies and many others.
Comfort World intends opening a total of 10 showrooms by the end of 2018, whilst expanding their export markets which currently include the Maldives, Dubai, Japan and the Seychelles . As for future plans, Mohideen said they intend to manufacture 'Transforming Space Saving Bedding Systems' such as Wall Beds, Storage Beds and Pull out Sofa Beds. "Prototypes have already been made and we intend starting mass production by the 3rd quarter of this year".