---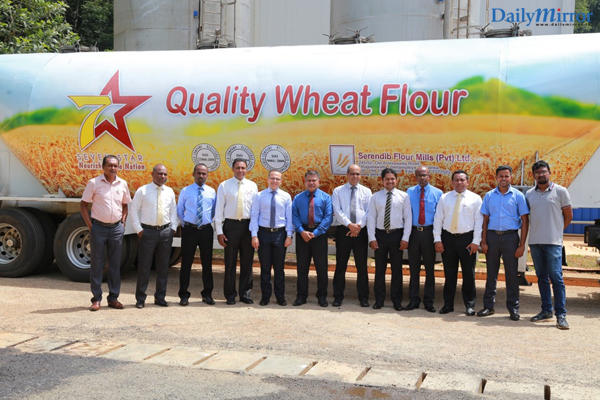 Serendib & Diana teams together prior to the first flour transfer to the new silo – (From left to right) Gamunu Dharmasiri - Diana Trading Company (Pvt) Ltd, Thushara Peries - Serendib Flour Mills (Pvt) Ltd, P. Sashidaran - SFML, Kalinga Wijesekera - SFML, Zeeshan Khawar - SFML, Upendra Jayaratne – Diana, Wasala Dayarathne – Diana, Delon Berenger - Diana, Anura Hewasinghe - Diana, Faizal Deen - SFML, Chamara Ranasinghe - Diana, Pubudu Kumara- Diana
Serendib Flour Mills (SFML) recently delivered its first state-of-the-art tanker silo to Diana Biscuits and is set to offer this efficient and environmentally-friendly storage option to other customers as well. Having consulted with Control Union Environmental Services in 2016, SFML embarked on a long-term carbon footprint reduction programme, as part of its commitment to embrace sustainable and eco-friendly practices at every juncture of its operation. The introduction of the tanker silo operation has given rise to an array of environmental, logistical, commercial, as well as health and hygiene benefits, and it serves as a prime example of the sustainable approach that SFML strives to incorporate into its overall business strategy.
The tanker silo is an innovative storage system that enables customers that buy flour in bulk to drastically reduce their logistical expenses, labour costs, energy consumption, reduction of landfill use and their overall impact on the environment. The storage option is significantly more hygienic and allows bakeries and factories to store a minimum of 20 tonnes of flour onsite. This eliminates the need to constantly transport large volumes of flour between the milling facility and customer factories, thereby cutting down additional transport costs, labour and fuel consumption. Moreover, the fact that the flour stored in the tanker silo is subjected to zero human contact makes it is a much more hygienic and safer alternative. Zero human contact coupled with an inbuilt sieving system that prevents the entry of foreign particles ensures that the flour stays fresh and contamination-free. The tanker silo is extremely easy to handle and facilitates the optimal utilization of ground space, as well as accurate, hassle-free inventory. Its employment of robust FIFO practices helps to drastically cut down on wastage and increase overall storage and production efficiency.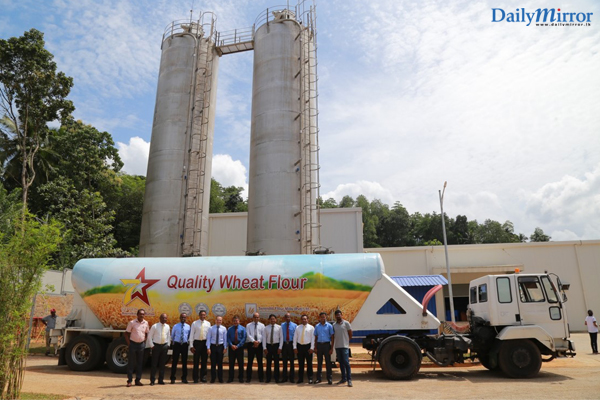 Serendib & Diana teams together prior to the first flour transfer to the new silo – (From left to right) Gamunu Dharmasiri - Diana Trading Company (Pvt) Ltd, Thushara Peries - Serendib Flour Mills (Pvt) Ltd, P. Sashidaran - SFML, Kalinga Wijesekera - SFML, Zeeshan Khawar - SFML, Upendra Jayaratne – Diana, Wasala Dayarathne – Diana, DelonBerenger - Diana, Anura Hewasinghe - Diana, Faizal Deen - SFML, Chamara Ranasinghe - Diana, Pubudu Kumara- Diana
While the tanker silo storage option promotes environmental sustainability and helps businesses to significantly reduce their impact on the planet, it also reaps an array of commercial and business benefits. The storage alternative leads to long-term cost benefits, end products of consistent quality, as well as an efficient and streamlined production process, which collectively give help biscuit, noodle and cake manufacturers as well as large-scale eateries, cafés and restaurants to increase their profit margins and gain a competitive edge.
Commenting on SFML's delivery of its first tanker silo to Diana Biscuits, Kalinga Wijesekera – Head of Marketing & Communications, Serendib Flour Mills (Pvt) Ltd, said: "We are pleased to have delivered our very first tanker silo to Diana Biscuits, this collaboration has further strengthened our business partnership, and we look forward to providing more of our customers with this innovative transport and storage option. The tanker silo not only enables customers to save a great deal of money and energy, it also offers a more hygienic approach to storage and production. It is highly efficient and reduces unloading times and other costs, which collectively enables SFML and our customers to drastically reduce combined expenses and our overall impact on the planet. At SFML, we are committed to protecting and conserving our natural environment, and this storage solution highlights the culture of sustainability that is at the heart of our organization."
Commenting on Diana Biscuits becoming the first recipient of SFML's state-of-the-art tanker silo, Prasanna De Silva – CEO, Diana Trading Company (Pvt) Ltd, said: "We are delighted to be the first customer to benefit from Serendib Flour Mills' ground-breaking storage solution and we believe that this investment will enable us to drastically cut down operational costs, save time and resources, and run a highly efficient operation.In addition, the tanker silo's employment of rigorous hygiene mechanisms will protect the flour from contamination and will help us in our efforts to deliver products that adhere to more consistent quality standards. We are positive that the implementation of this new storage facility will result in a range of logistical, cost, hygiene, as well as environmental benefits, thereby securing us a significant competitive advantage in the market."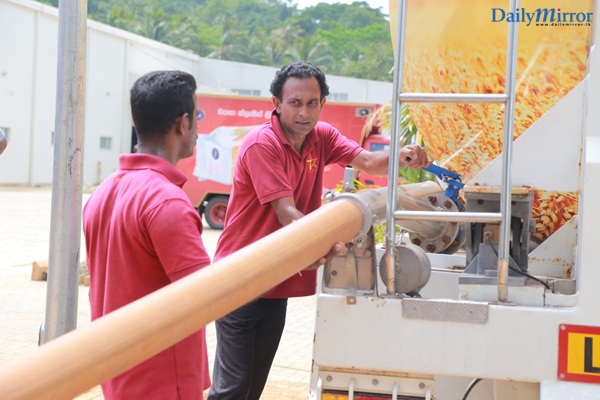 Serendib team working on the first flour transfer
SFML believes that applying a sustainable approach to business proves pivotal in ensuring its own longevity and that of the industry, as well as the well-being of the entire planet and future generations. The company makes continuous efforts to minimize its impact on the environment by reducing greenhouse gas emissions and waste whilst championing energy and water conservation throughout its operations. SFML has developed a wide range of wheat flour products that cater to diverse dietary preferences and needs, and are available in a variety of volumes and packaging formats. The company's flagship brand, 7 Star Flour has become a household name that is a much-loved staple in homes across the island.