---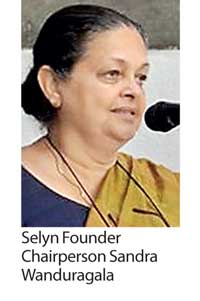 In November 1991, Selyn, Sri Lanka's only fair trade guaranteed handloom company, began its colourful journey with 15 artisans in a small village workshop. Now 25 years later, this social business can proudly boast of empowering over 1,000 rural women, weaving prosperity and security into their lives.
This important milestone was recently celebrated at the company's hometown Wanduragala in Kurunegala with Founder Chairperson Sandra Wanduragala addressing the audience after a fun-filled day for the weavers, craft workers and their families to mark the event.
"We are dedicated to providing our customers with high-quality, well-designed, innovative products at fair prices," she reminded the audience. "Customers who patronize our retail stores in Colombo, Kandy, Negombo and Kurunegala have helped Selyn become a household Sri Lankan brand. Selyn products can be seen in many leading stores including hotels and resorts, locally and internationally. We treasure every partnership as it provides us with the opportunity to showcase your skills," she added.
Today, Selyn produces a fine range of handloom fabrics, homeware, fashionwear and soft toys. The endearing soft toys have a ready market overseas and are exported to over 40 countries. The skilled artisans whose nimble fingers create the 100 percent cotton handmade products hail from 16 villages in and around Kurunegala as well as Batticaloa and Trincomalee in the east coast. The company also provides a lucrative livelihood for 541 direct employees including 180 women who work from home on orders assigned to them. Altogether a network of 1,000 women benefit from Selyn's unique business model that enables these artisans to become self-employed entrepreneurs.
It is a win-win situation for both Selyn and the artisans. Selyn is assured of a steady flow of quality handloom and handmade products while the weavers and artisans are assured of guaranteed work. In addition, Selyn is committed to providing its network with the skills and facilities to overcome the challenges faced by rural women, via trainings on financial management and awareness on facing gender-based violence. More importantly, they learn the value of empowerment as independent suppliers and become self-sufficient entrepreneurs when the only option they had before was to leave their young families and go abroad to work as housemaids.
Selyn fabrics are eco-friendly. The yarns are dyed with safe non-toxic dyes and wastewater plant treatment ensures the environment is further protected. Certification from the World Fair Trade Organisation means adhering to a stringent audit process that safeguards the planet and of course the people. A fair remuneration to the weavers is an important prerequisite.
Handloom weaving is a traditional Sri Lankan craft and the skill is passed down from generation to generation. Now the interest in the craft is waning and the weavers are getting older. Selyn is keeping the craft and the interest alive by innovating within the traditional craft and attracting younger artisans who can even enjoy the facility of day-care centres for young children while they are at work.
The company has won many national and international awards to date in recognition of its contribution to society and most recently won the Presidential Award for Exports in the handloom category this year. An equally worthy recognition was winning the US Department of State's 2016 Alumni Engagement Innovation Fund, among global competition, for the '100 Hands Initiative' – a drive to employ and train migrant returnees and potential migrants in the Kurunegala District into Selyn.
The 25th year will be a momentous occasion for Selyn because the company's namesake and founder Sandra's daughter, Selyna Peiris, an attorney-at-law by profession like her mother, will become the company's hands-on Director of Business Development to assist Managing Director Hilary Wanduragala, Sandra's brother.
"I look forward to enhancing the lives of the Selyn community and making our social business model a platform for addressing the issues faced by women in Sri Lanka," said Selyna bristling with new and innovative ideas for the development of the company and poised to take the concept of her mother to greater heights.