---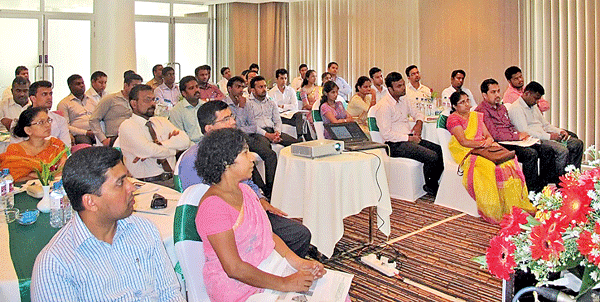 Supporting the Ceylon Electricity Board (CEB) in its efforts to upgrade and modernize the country's electricity distribution networks using latest technology, Schneider Electric, a global leader in energy management solutions, shared its extensive knowledge in 'smart distribution networks' with the CEB.
The high-level knowledgesharing forum on the timely subject of national significance – at a time the authorities have announced plans to achieve automation of electricity networks and efforts to transform Colombo to a smart city under the Megapolis project – was attended by 50 senior engineers of the CEB.
The forum, which primarily focused on network automation and advanc ed di s t r ibut ion management, featured sessions by foreign experts of Schneider Electric – which possesses vast experience in smart electricity grids through involvements in major projects around the world, including in India, Germany, Australia and France.
The two Schneider Electric officials who addressed the forum, Senior Manager Product Specialist Feeder Automation Prasad Dhananjay Gaikwad and Senior Manager Solution Architect Grid Automation Sachin Patil, count over 20 years of combined experience in the power distribution industry. Smar t electrici ty gr ids are automated and use information technology and are upgraded active electricity networks which can intelligently integrate the actions of connected users.
In contrast with conventional power distribution networks which are not able to support or manage the power generated effectively, by strengthening networks with smart technologies it is possible to manage effective consumption of power.
Thereby it is possible to reach to an effective utilization level of 90% to 95% – through the use of the smart product technologies and advanced distribution management software systems for power distribution. Smart grids are also superior to conventional grids in many other aspects as they reduce outages, are more eff i c i e n t , better capable of measuring consumption, communicating directly with/feeding information to the central system and restoring the network rapidly in case of outages.
Therefore smart grids are advantageous to both the power provider and the end consumer. "As a global leader with a vast wealth of knowledge in energy management, Schneider Electric takes much pleasure in sharing our expertise on smart electricity grids, a subject of much importance to Sri Lanka which can benefit the country greatly," Schneider Electric Country Director Sri Lanka, Bangladesh and the Maldives Pradeep Saikia said.
"This knowledge-sharing forum is most timely at a time the CEB is in the process of embarking on network automation – which can support the government's vision of converting Colombo to a smart city under the Megapolis project.
The enthusiasm of the CEB officials who attended the event was most commendable." A CEB official speaking at the event commended Schneider Electric for organising the forum. "One of CEB's goals is to achieve network automation which requires new technology, knowledge and expertise. Therefore this timely initiative by Schneider Electric is appreciated.
" Schneider Electric is a global specialist in energy management and automation with operations in more than 100 countries. It offers integrated solutions across multiple market segments and holds leadership positions in Non-residential and residential buildings, industries and machines manufacturers, uti l i t ies and infrastructure and data centres and networks. Dedicated to making energy safe, reliable, efficient, productive and green, the group's 170,000 employees achieved revenues of 25 billion euros in 2014, through an active commitment to help individuals and organisations make the most of their energy.