---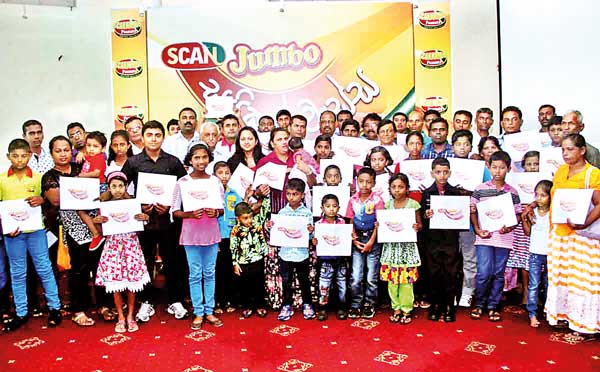 The final round of winners in the Scan Jumbo Peanuts 'CycleWessa' promotion received their mountain bikes recently, at an award ceremony held in Colombo. The winners of the final round are: Wajira Lakshanthi of Bolanakalaliya, Sandeepani Kodagama of Ampitiya, Manickam Shanmuganathan of Jaffna, M.R.M. Rasheed of Colombo 14, J.P. Sadew Vihansa of Sooriyawewa, N.M. Prithi Surangani Jayathissa of Matale, Wagmi Chathuriya of Matugama, A.G. Dahara Sadamini of Polonnaruwa, Adward Haran Fernando of Weliweriya,
Thevidu Balasuriya of Gampaha, Umar Reeshman of Dikwella, D.C.A.K. Kulathunga of Eppawala, Indika Sadamali of Nakulugamuwa, M. Rijan of Trincomale, K.T. Piyadasa of Habaraduwa, Upali Nathsinha of Kurunegala, Ashani Nanayakkara of Boralesgamuwa, S.A. Premalal Suriyasinha of Udabaddawa, D.A. Wijethilaka of Matale, Nishanthi Karunarathna of Hasalaka, J.M. Sabry of Mannarum, M.D. Jayanthi of Balemulla,
Sasidu Mihiranga of Urapola, K.G. Himesh Sasanga of Galmulla, A. Nishadi Darshika of Panadura, A.C.M. Sameem of Addalaichenai 10, K.L. Upekshaka Edumini Lakamge of Opanayaka, Samarasinha Shalini Ewanjala Opanayaka of Galle, M.K. Dimuthu Sampath of Ratmalana, SIrajdeen Nawal of Chinabay, A.J.M. Chandimal of Kandiya, R.M. Devika Sudarshani of Polonnaruwa, H.A. Parami Vishaka Perera of Anuradhapura, P. Mahul Prabashan Nonis of Ja-Ela, W.K. Ishan Sudesh of Mirigama, Mas. J.C. Bebingtan of Vavuniya, H.V. Anurasiri of Galle, R.M. Kumara of Horana, W.K. Sithum Anjana of Uhana, J.A. Janaga Oshan Jayaweera of Madampe, P. David of Ukuwela, Samantha Bandara Ranathunga of Mapakadawewa, M.G. Pati of Polonnaruwa, A. Pabasara of Matara, Sanuka Kithnanda Nanayakkara of Waduraba, Manjula Kumara Wijerathna of Kurunegala, G. Kusumawathi of Gallenamulla, T. Wimalawathi Dabara of Galpatha, K. Sarada Tejan of Thotapola, Mohomad Fayas of Colombo 15,
W.K. Rukshan of Ratnapura, H.K. Somashi Kavindi of Ambalangoda, D.H. Ravindu Sadaranga of Beliathha, Sadamin Wijewardana of Siduwa and Nethushi Ushara Nuwarapaksha of Akmimana. Scan Jumbo Peanuts was introduced in Sri Lanka over 18 years ago by Scan Products, which is a consumer products (FMCG) arm of the diversified business conglomerate, C.W. Mackie PLC. The hygienically manufactured product met with an immediate positive response from the public, thanks to its salty crunchy flavour. Top grade peanuts are used in the production of this snack to ensure the finest quality. The draw was organised as a gesture of gratitude to the consumers, for their continued loyalty to the brand.