---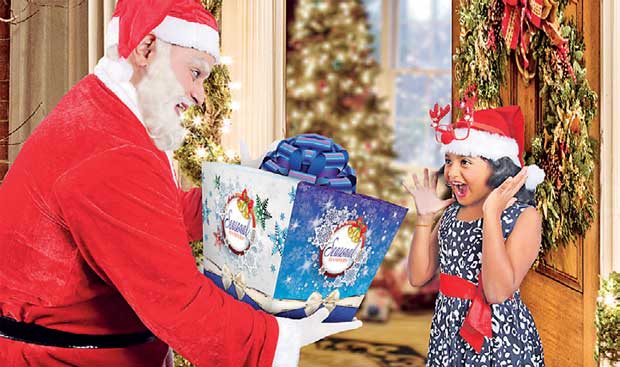 No elves will be involved, but as the countdown to Christmas begins, retail giant Arpico has enlisted the ultimate icon of good cheer - Santa Claus to make its home delivery service extra special for online shoppers.
Commencing 1st December, shoppers at the Arpico 'e Supercentre' online shopping portal can choose to have their purchases delivered by a costumed Santa Claus to delight recipients in their homes or offices.
The characteristic flowing white beard and booming 'Ho Ho Ho' synonymous with Father Christmas comes at a nominal additional fee for deliveries in Colombo or its suburbs, and can be used to deliver anything that is available for online purchase at
www.arpicosupercentre.com
"Every year, we look for new ways to enhance the spirit of the festive season for our customers, because Arpico is all about the shopping experience," said Minodh de Sylva, Head of Marketing at Richard Peiris Distributors. "Santa Claus is a perennial symbol of Christmas, and delivery by Santa brings a cheerful touch that will be appreciatedby young and old alike."
"It will be the perfect way to deliver seasonal hampers, toys, gifts, Christmas goodies and even groceries to family and friends."
Arpico's delivery by Santa which is believed to be a first for a Supermarket delivery service in Sri Lankais part of wide-ranging seasonal transformation now taking shape across the network of Arpico Supercentres, Superstores, showrooms and 'Daily' supermarket outlets. The transformation encompasses a significant expansion of the product portfolio to include seasonal needs, a refresh of the interior and exterior décor of the stores and special offers and activities that will be in place throughout the season.
Already in Arpico outlets well in time for the shopping spree to come are an extensive collection of toys and Christmas décor products. The toys collection includes high speed remote controlled cars jeeps, helicopters and quad copters, mechanical toys, beach toys and wooden educational toys.
For those looking to transform their own homes and offices this season, Arpico supermarkets island wide are already displaying a huge range of artificial and decorated Christmas trees soaring up to 12 feet in height, streamers, baubles, wreaths, LED and rice lights, Nativity sets, bon bons, Santa Claus costumes, Christmas stockings and much more. An array of ornaments, cutlery sets, kitchenware, porcelain products and glassware offers shoppers a wide choice of gift options for the season. Offering the widest range of products, the Arpico retail chain comprises of 20 Arpico Supercentres and Superstores, 18 showrooms and 24 Arpico
Daily supermarkets.
The Arpico Supercentres are the company's flagship outlets, offering extensive parking, bill payments, banking facilities, lifestyle needs and the widest range of products with the promise to shoppers that they are the most convenient shopping destinations in the country.
The retail chain broke new ground in value addition earlier this year with the deployment of its own dedicated taxi service exclusively for shoppers, a first for a supermarket chain in Sri Lanka.