---
Claims 44% market shares by October
Says leading in flagship, premium and mid ranges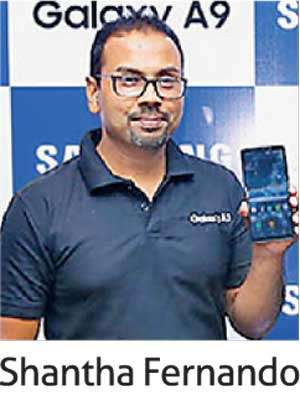 By Nishel Fernando
Samsung says it retains the top spot in Sri Lanka's smartphone market with a 43.84 percent market share as of October, despite the reports that Huawei has taken over the top spot in the first half of this year from Samsung.

Referring to Statcounters' report on Sri Lanka's Mobile vendor market share, Samsung Sri Lanka, Head of Mobile Business – General Manager, Shantha Fernando said Samsung had a 43.84 percent market share by October while its closest competitor had only a 23.91 percent market share.

Huawei Sri Lanka's officials earlier this month announced that Huawei had captured the top spot in Sri Lanka's smartphone market during the first half of the year according to a report from leading global research firm, Growth from Knowledge (GfK).
Speaking to reporters in Colombo this week at a pre- launch event of Samsung Galaxy A9, Fernando stressed that Statcounters is recognised as an independent firm and their data is accessible to anyone.

According to Statcounters' report, Huawei's market share was at 22.99 percent by end of June while Samsung had a 40.9 percent market share.

However, Huawei has been able to increase its market share from 19.09 percent to 23.91 percent during January to October period while Samsung has been able to retain its market share at the same levels with a marginal decline during the period.

"We are number one in terms of the number of devices we sold as well as in terms of consumer preference in Sri Lanka," Fernando said.

He noted that Samsung is leading in flagship, premium and mid range segments. However he said that Samsung may not be leading in the mass segment.

"I would say we may not be leading in the mass segment. Because in the mass segment, there are lot of small-time brands, particularly from China, which offer very low prices. We are focusing on how we can upgrade our consumers for a better experience," he said.

Samsung has launched over 10 models in Sri Lanka, while the latest model being A 9 which is expected to be launched next month targeting the Christmas season.
Speaking of future models that Samsung plans to introduce to the Sri Lankan market, Fernando said Samsung has lined up to launch "some game changing" devices for the first quarter of next year.

"Continuously, we are launching and exciting our consumers with a wide range of smartphones, which establishes number one position in Sri Lanka," he stressed.