---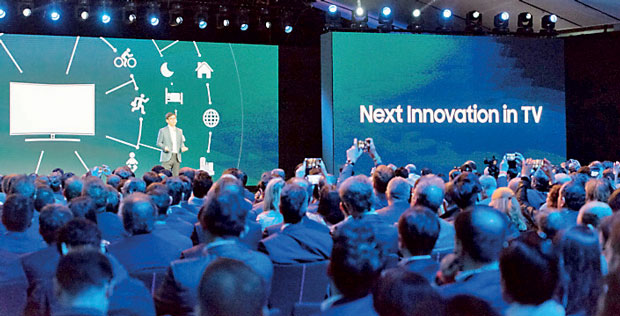 Offering users an unparalleled viewing experience, Samsung Electronics' QLED TV launched at the Carrousel du Louvre in Paris recently.
The Samsung QLED offers users an upgraded viewing experience through high end picture quality, lifestyle-centric design and enhanced smart features. The next generation display was showcased at the 2017 QLED TV global launch event.
The Samsung vision is realized through QLED TV's true-to-life picture quality and smart features that facilitate access to today's limitless content and beautiful design; it also ensures the freedom to combine TV with their lifestyle demands. In this manner, Samsung believes QLED TV is ushering in a new era of Lifestyle TV.
QLED TVs are capable of reproducing 100 percent colour volume, expressing colour at any level of brightness detailing even the subtlest differences visible at 2000 nits. The new metal quantum dot is uniform in shape and can express nearly all the colours in the colour volumewhileQuantum Dot is inorganic, which results in less burn in their long life span. It is better for the family and environment as it is cadmium-free as well.
In addition to highlighting the features of QLED TV, the company also showcased The Frame, an intelligent display that offers a premium viewing experience when on, and doubles as a work of art by displaying art or personal photos when powered off.
" The QLED technology is unique and gives today's discerning consumer the kind of viewing experience truly desired" says Youngmin Shin, Managing Director of Samsung Sri Lanka. He adds that they plan to launch QLED technology in Sri Lanka in June this year.
" Samsung QLED TV combines technology with lifestyle aspirations of tech and quality savvy consumers of today. It takes into consideration the wire clutter and is minimal in over-all design. It combines aesthetic shapes and technologically superior lines to create a truly designer TV that also brings a truly unique viewing experience."
Using Samsung's breakthrough technology such as quantum dots and nanotechnology, Samsung's QLED TV delivers perfect colour streams irrespective of surrounding lights, whether in a lit or a darkened room. The features of QLED not only highlight the delivery of a superior viewing experience, it also ensures a more realistic exposure.
"Samsung QLED TV promises to be the connoisseur in high end, lifestyle centric TV of the future. We at Samsung are excited about the possibilities it gives the consumers as a total lifestyle experience in viewership," added Shin.