---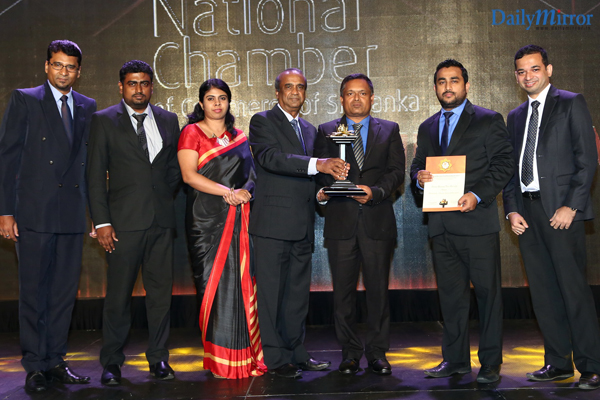 From Left : Mr Naleen Delthalawa, Mr Amila Bandara, Miss Dharshani Rajanathan(NCCSL), Mr Gamini Wimalasuriya(NCCSL), Mr Wipul Kularathne, Mr Sudesh Rathnayaka and Mr Rangika Kulasuriya
Samson Rajarata Tiles (Pvt.) Ltd. was acclaimed the Winner in the Chemicals, Ceramics and Glass Manufacturing category at the recently concluded National Business Excellence Awards organized by the National Chamber of Commerce of Sri Lanka (NCCSL).
The NCCSL evaluates local businesses in parameters such as Corporate Leadership, Corporate Governance, Capacity Building, Performance Management, Local & Global Market Research, Corporate Social Responsibility & Environmental Sustainability, and Business & Financial Results.
The Samson Rajarata Tile factory is located in Thirappane in Anuradhapura, thus moving away from the urban center, while developing the livelihood of the rural population as a result. The production is focused on sustaining natural stability and uses the clay from the depths of reservoirs in Anuradhapura as base material.
The tiles contain several unique product features. The firing process is fuelled by gas and diesel as opposed to wood used by other manufacturers. This enables all the tiles to be fired equally and avoid incompatibilities in shape and size. With high durability each tile contains the capacity to endure a force of 1200 N. Furthermore, Samson Rajarata Tiles are the only tiles in Sri Lanka with an interlocking system which connects each tile together when laid. The water absorbent rate is less than 10%, thus guaranteeing zero leakage.
Commenting on the win, Sudesh Rathnayaka, General Manager – Sales & Marketing for Samson Rajarata Tiles stated, "This award is indeed an honour for us, as it reflects the commitment we have undertaken to produce the best high quality tiles for the country. Our products have reached the local market widely and it is evident in the 30% sales growth we have witnessed, in comparison to the previous year. We commenced operations to fill a void which existed for qualitative and sustainable roofing tiles in the market, and throughout the years we have perfected our processes. Today we have reached out to the international market, and are looking at expanding across continents. Our brand is recognized by many distinguished customers in both markets."
The production of Samson Rajarata Tiles is done using Japanese technology and machinery, and produces over 400,000 tiles per month. The factory boasts of being the only tile manufacturer with such technological inheritance and high quality products in South Asia. Furthermore, the tiles are manufactured with 100% natural material in accordance to both local and international quality standards. Samson Rajarata Tiles (Pvt.) Ltd. is an ISO certified manufacturer with the Green Label certificate.
At present, Samson Rajarata Tiles are exported to the United Kingdom and India. Measures are being taken to expand the export market to Europe, the Middle East, Africa and Australia.Roofing tiles being their core product, the company also manufactures Terra Cotta floor tiles, bricks and clay paving blocks.
Samson Rajarata Tiles (Pvt.) Ltd. is a subsidiary of the DSI Group.