---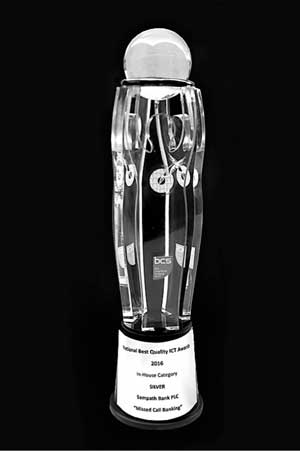 In recognition of developing unique cutting-edge banking solutions, Sampath Bank PLC bagged the Silver Award under the In House Application category at the National Best Quality Software Awards (NBQSA) 2016 held on the 4th of October at Galadari Hotel Colombo.

Sampath Bank received this award for its latest internally developed product 'Missed Call Banking'.
Sampath Missed Call Banking was conceptualized on the basis of providing Sampath account holders a convenient and secure means of obtaining their account balances via SMS, eliminating the need for a visit to a bank branch or an ATM. In order to avail the service, account holders must enable the Sampath SMS Alertz feature by simply completing an SMS Alertz application available at any Sampath Bank branch. Users can then obtain the available active bank account balances instantly through a SMS notification by simply giving a 'Missed Call' to – 0112 30 30 80. Further, anyone using any basic mobile phone with the SMS Alertz registered mobile number has no hassle in enjoying the utmost convenience offered through this service.

NBQSA is an annual event organized by the BCS Chartered Institute for IT in Sri Lanka with the objective of showcasing and benchmarking Sri Lankan ICT products. Whilst recognizing outstanding contributions to the development of ICT by individuals and organizations in Sri Lanka, this competition creates opportunities for local entities to be recognized on international grounds and improve the quality of their ICT products and services.

With the successful execution of Sampath Missed Call Banking, this award further recognizes Sampath Bank for its exceptional drive for distinction, innovation in software products and commitment to being a customer-centric financial institution. This achievement is yet another reiteration of Sampath Bank's commitment to cater to the dynamic needs of customers and empower them with an exceptional banking experience coupled with utmost convenience and value added benefits.