---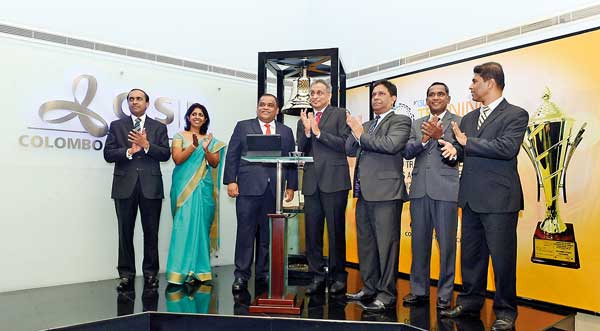 ""By Chandeepa Wettasinghe Sampath Bank PLC will be aiming to become one of the three largest listed entities in the Colombo Stock Exchange in the future. "When we come back next time, we want to be in the top 3 listed companies," Sampath Bank PLC Managing Director Aravinda Perera said yesterday at the ceremonial bell ringing ceremony conducted on the first day of trading each month. Sampath Bank is currently the 9th largest listed entity with a market capitalization of Rs. 39 billion.
It is also the 3rd largest private bank in the country, behind Commercial Bank of Ceylon PLC with a market capitalization of Rs. 103 billion, and Hatton National Bank PLC with Rs. 66 billion. Perera said that the strategies of Sampath Bank will continuously increase investor confidence in it. "We've had very positive credit growth without exposing ourselves to the government. We borrow in dollars and lend in dollars. We will not take exchange risks. We mostly lend with variable rates, so we stand to gain when the rates rise," he said.
Perera added that the bank has an overwhelming level of credit demand which will ensure sustained growth for the foreseeable future. Sampath Bank posted a net profit of Rs. 6.62 billion for the financial year 2015, increasing 25.8 percent year-on-year. Meanwhile, Perera said that the bank wil l grab opportunities in the region if they arise.
"We have a presence in Bangladesh through Lanka Bangla. If such opportunities arise, we will take them," he said. However, he said that expansion plans in Myanmmar have been delayed due to a downturn in the South East Asian Economy. "We recently opened a representative office in Myanmmar, but currently the situation in Myanmmar is not good. We're watching the situation and waiting till it's good," he said.