---
Higher loans, stretched margins and fee incomes helped Sampath Bank PLC to record higher earnings for the quarter ended in March 2018, offsetting the negative impact from the increased provisions made on possible bad loans.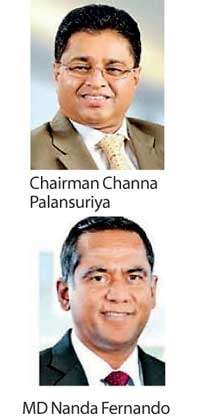 Releasing its interim financial accounts for the January- March (1Q18) period, Sampath Bank, Sri Lanka's third largest private lender, reported Rs.14.16 a share or Rs.3.37 billion in earnings, up 41.1 percent from a year earlier.

The net interest income was Rs.8.95 billion, up 33.4 percent from the same period in 2017.
Sampath Bank, with assets of Rs.846.5 billion, expanded its gross loans by 7.4 percent or Rs.42.6 billion for the period. The bank has a total loan book of Rs.614.5 billion.

According to banking sector analysts, the new loan growth is a significant achievement, given the tough market conditions prevailed during the period as the industry loan growth slowed considerably. According to the latest data available up to February, private sector credit during the first two months grew by Rs.100 billion—Rs.41 billion in January
Sampath Bank raised capital in multiple rounds during the last five months via a mix of rights issues and debentures but Fitch Ratings said Sampath could still find it challenging to improve its capitalisation if it fails to successfully execute its medium-term capital plan while maintaining high loan growth of over 20 percent or more during the 2018-2020 period.

Based on the 1Q18 growth, Sampath Bank is expected to record an annualised 30 percent growth in new loans in 2018.

The bank in December 2017 raised Rs.7.6 billion via a rights issue and Rs.6.0 billion via a BASEL III-compliant subordinated debenture issue.

Further, in March this year, the bank raised another Rs.7.5 billion via subordinated debentures and another Rs.12.5 billion via a rights issue in April.

The bank has a 9.48 percent in Tier I capital and 14.42 percent in Tier II capital by end-March, above the regulatory minimums of 8.875 percent and 12.875 percent, respectively.

The bank estimated the new IFRS 9 on Financial Instruments to have a 30 to 45 basis points reduction in the Tier II capital adequacy ratio.

"Further, the impairment provision of the group would be increased by 35 percent-45 percent and the group's net assets and comprehensive income for the period would be reduced by 3 percent-4 percent and 6 percent-8 percent, respectively," the bank said in a note to the financial statements.
Meanwhile, Sampath Bank's net fee and commission income grew by 19.4 percent year-on-year (YoY) to Rs.2.38 billion.

A strong non-fund income base offers a buffer against compressing margins and slowdown in core-banking income.

The bank increased its net interest margin by 19 basis points to 4.10 percent during the quarter.
Meanwhile, the bank grew its deposit base by 2.9 percent or Rs.17.9 billion during the quarter. The bank's total deposit base is Rs.643.7 billion.

The bank made higher provisions against possible bad loans during the period—Rs.545 million on specific customer accounts and Rs.696.6 million on general loan portfolio, up from Rs.462.7 million and Rs.212.2 million YoY.

Meanwhile, the gross non-performing loan ratio rose to 1.95 percent from 1.64 percent but remains well below the industry average of 3.5 percent.

Business magnate Dhammika Perera controls 14.95 percent in Sampath Bank via Vallibel One PLC, while high-net-worth investor Indra Silva and the Employees' Provident Fund have 9.98 percent and 9.97 percent stakes, respectively, in the bank.