---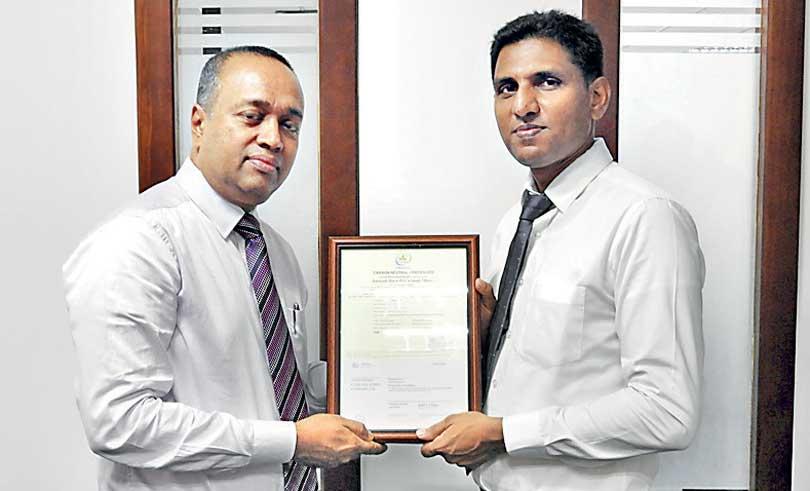 From left: LalithWeragoda, AGM - Human Resources, Sampath Bank PLC and Buddika Hemashantha, CEO of Climate Smart Initiatives (Pvt.) Ltd
Signifying a landmark achievement in environmental sustainability, the Sampath Bank Head Office recently attained the status of Carbon Neutrality.

Sampath Bank PLC was awarded the 'Carbon Neutral Certification' by Climate Smart Initiatives (Pvt.) Ltd (ClimateSI), declaring its Head Office as 'carbon free' for the year 2018.
The certification is further attested through a confirmation issued by the UN Framework Convention on Climate Change, stating that Sampath Bank has successfully offset the carbon footprint of its Head Office to achieve carbon neutral status.

This certification was a result of a series of actions that the Bank has taken, among others, preparation of organizational level Green House Gas (GHG) inventory prepared by ClimateSI covering direct and indirect GHG emissions in three scopes (scope 1,2,3) in accordance with the requirements of ISO 14064-1:2006.

The GHG inventory was very comprehensive as it covers the head office and all branches (229) of the Bank, as well as 11 GHG sources. This demonstrates its willingness to promote sustainability efforts across all branches and clients of the bank.

Taking a further step towards environmental sustainability, Sampath Bank supported the implementation of a hydroelectric project in order to steer its Head Office towards achieving carbon neutrality. The project was registered under the United Nations' Clean Development Mechanism (CDM) Registry (PA 2698) with the purchase of Certified Emission Reductions (CERs) equivalent to its carbon emission.

While commending the great efforts taken by Sampath Bank, Buddika Hemashantha, CEO of ClimateSI highlighted that the bank is in the right direction to address the single biggest environmental, social and economic challenge in this century, climate change.

He highlighted that being carbon neutral, reflects the bank's desire to run a more sustainable business and understand better the implications and impacts on both the bank and its client. Further, he indicates that Sampath Bank's efforts can be a first step to demonstrate the important role that the financial sector should play to shift Sri Lanka towards a low-carbon economy.
Sampath Bank has consistently measured the outcome of its energy consumption in terms of GHG emission, as a key component of its environmental management model. With a mission to minimise its carbon footprint and thereby lessen the impact on global climate change, the bank has continuously recorded its GHG emission in compliance with international standards. Also the Bank has taken steps to publish its Integrated Annual Report as a carbon neutral product since 2015.

Since 2013 Sampath Bank has conducted a carbon footprint calculation every year in accordance with the guidelines stipulated under the Greenhouse Gas Protocol. Accordingly, all direct carbon emissions are measured under the Protocol's Scope 1, whereas indirect emissions from purchased electricity and other indirect emissions are measured under Scope 2 and Scope 3 respectively.

Focus on reducing carbon emission, the Bank continues with the Renewable Energy Migration project aimed at converting branches to solar powered branches. Accordingly, three new solar installations were completed at the Negombo Super branch, Narahenpita branch and Wellawatte Super branch, bringing the total number of solar powered branches to five by 31st December 2018.

Efforts to replace conventional lighting with LED solutions were also expedited under the ongoing branch refurbishment programme, with over 50 percent of the network operating on LED lighting as at end of December 2018.

While upholding its environmental best practices, Sampath Bank aims to make a pivotal contribution in steering the nation towards a low-carbon economy.