---
Sri Lanka's corporate sector figure Samantha Rajapaksa has been appointed as a Non-Executive Director of state banking giant Bank of Ceylon (BOC) by Public Enterprise Development Minister Kabir Hashim.

Rajapaksa's appointment comes in the wake of the resignation of Charitha Nissanka Wijewardane from the BOC board.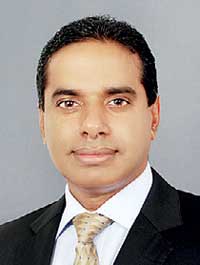 Rajapaksa is the Group Managing Director of Associated Motorways (Pvt) Limited and also holds directorships in AMW Capital Leasing & Finance PLC and the Asiri Group of Hospitals.

Rajapaksa is a Fellow member of the Institute of Chartered Accountants of Sri Lanka and the Chartered Institute of Management Accountants of UK.

He is also a Fellow member of the Chartered Institute of Marketing of UK and holds a Masters in Business Administration from the Post Graduate Institute of Management of the University of Sri Jayewardenepura.
He commenced his career in 1987 and has held the positions of Director/General Manager at Informatics International (Pvt) Ltd., Director/Chief Executive Officer of CF Venture Fund Ltd., Director of Central Finance Co. PLC, Senior Project Manager at AT&T Inc. USA and Group Director of Kshatriya Holdings PLC.

Prior to his current appointment at Associated Motorways (Pvt) Ltd., he was the Director/ Chief Executive Officer of Softlogic Communications (Pvt) Ltd and a Group Director of the Softlogic Holdings PLC.

Rajapaksa is the recipient of the Platinum Honours Award for Professional Excellence in the Field of Management from the Post Graduate Institute of Management of the University of Sri Jayawardenepura. He is also an Executive member of the Ceylon Chamber of Commerce, President of the Sri Lanka – USA Business Council and a Director of the National Apprentice and Industrial Training Authority.

Other current BOC board members are: Ronald C. Perera (Chairman), S.R.Attygalle (Ex Officio Director) and Non Executive Directors Ranel Wijesinha, Ajith Gunawardana and Mano Sekeram.