---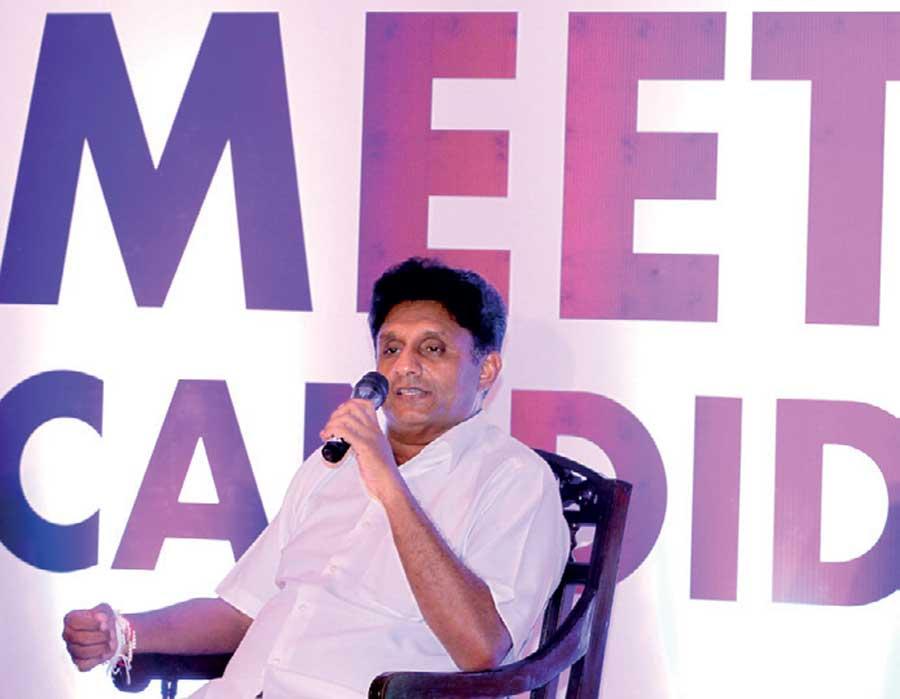 Sajith Premadasa
Pic by Pradeep Dilrukshana
By Nishel Fernando
New Democratic Front presidential candidate Sajith Premadasa last week pledged to formalise the private sector consultative process for scientific and rational economic policymaking, under a revamped administration.

"In present day, we have various ad hoc consultations, which are done according to the whims and fancies of the particular minister in charge. I would go a step forward and formalise the consultative process as an indispensible requirement in the economic decision-making process.

In our revamped government, we will have new people taking on responsibilities and we will also have in-built safety procedures to ensure that corruption is eradicated. The system has to be completely depoliticised.
The politicians should not have a place in administration of justice that should come under total purview of the judiciary," he stressed.

Premadasa shared these remarks at the inaugural 'Meet the Candidate' series organised by the American Chamber of Commerce in Colombo, last Friday.

He reiterated that he would choose a capable team to govern the country, moving away from the current ad hoc systems.

"I can assure you that there will be a wholesale change as far as my team is concerned. We shall move away from typical aristocratic friendship-based, personal relationship-based recruitment into key positions.

We will definitely adopt a highly advanced meritocratic approach to take in those who are capable, who have performed, have excelled in various fields and arenas and have succeeded in implementing time-targeted programmes. They shall be given utmost priority," he added.

Premadasa emphasised that the decision-making under his administration will be done scientifically, evaluating the overall benefits to the country.

"The decisions will be made based on discussion, using the techniques of cost-benefit analysis. If the benefit outweighs the costs to the country, we will go ahead with those projects.
We will have a transparent, open government with no-hidden agendas and certainly with no-hidden deals," he went on to say.

Speaking of the economic model that he intends to follow, Premadasa noted that he believes in a mixed economic model, which is driven by free market principles in wealth creation.

"I subscribe to a mixed economic model where you allow demand and supply, free market system, private entrepreneurship to flourish and to reduce barriers to private enterprise as much as possible. Having said that, I firmly believe that wealth that is created and generated has to be distributed equitably," he said.

Sharing his experience, Premadasa pointed out that he was able to successfully overcome bureaucratic red tape in implementing projects, which he intends to replicate in his administration, if he's elected to the presidency.

"I have overcome challenges in implementations. For an example, when I assumed the office in 2015, the Housing Ministry didn't posses vital housing statistics with regard to people in our country. It took nearly one and half years to conduct a comprehensive survey in order to ascertain the housing problem of our country.

I ensured that there were benefits and support that were given to the bureaucracy based on performances," he elaborated.

He stressed that he would capitalise on "Premadasa DNA", when it comes to implementation.

Speaking of terrorism and racial violence in the country, Premadasa highlighted that he anticipates introducing new legislation to curb extremism while defeating terrorism.

"I think there is a great need and a necessity to enact new legislations to prevent hate speech and ethnic and religious-based violence. It's important that we educate people in our country regarding attributes and virtues of togetherness, harmony and peaceful interactions. We will destroy terrorism but we will also destroy all forms of other extremism," he said.

He also revealed his plans to formulate a multi-party committee to combat corruption.

"I will have a multi-party committee holding even far-reaching intrusive powers to looking into the tender process and thereby creating an environment that is conducive to the highest norms and principles of good governance," he added.

To solve Sri Lanka's debt issue, Premadasa revealed that he would focus on economic stimulus, debt-restructuring with international organisations as well as efficient public investments in the short term.

"One aspect of dealing with debt would be short-term stimulation of the economy to enhance and encourage the national production processes. Therefore, a portion of the wealth created by those processes can be allocated to pay off debt.

Secondly, we will negotiate with various international financial and monetary institutions for restructuring of debt, which would be beneficiary for short-term accelerated growth trajectory of our country.

As the third aspect, we will ensure that whatever expenditures that we embark on, public investment are done in a meticulous manner with vale additions," he elaborated.

Premadasa vowed to get the best and brightest involved in the process to have an innovative and out of the box approach to grapple with the debt issue.