---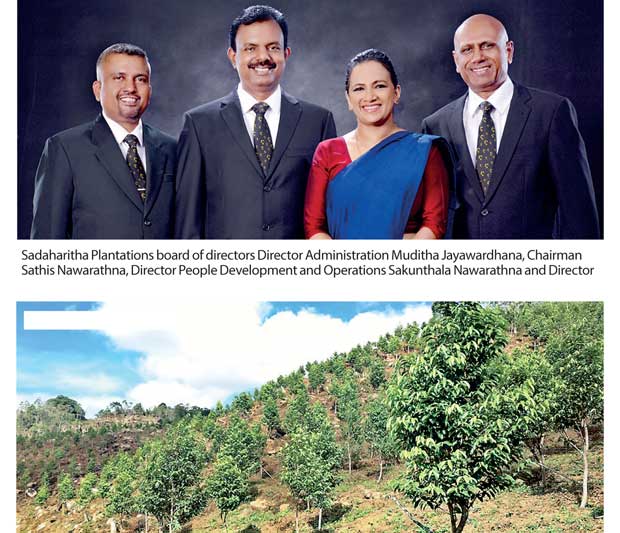 This August, Sadaharitha Plantations is proudly celebrating a 15-year-long journey that has seen the value of its pioneering business of commercial forestry flourishing from less than a million rupees in the first year to over a billion rupees this year.

Established in 2002, Sadaharitha Plantation started with fewer than 10 employees and now has a network of over 1100 staff serving the country's leading commercial forestry and investment company with over 2000 acres.

Taking pride in this milestone, Sadaharitha Group of Companies Chairman Sathis Navarathna said, "The development we have achieved when compared with similar businesses in countries that are into forestry is overwhelming. It is indeed a remarkable achievement within a short time. Also, we have strengthened the stability of our company through diversification into exports to different markets. Accreditations from ISO, HACCP and higher state recognitions such as Green Awards are a true testament to our untiring efforts towards achieving success."

He further added, "We are grateful and appreciative of our stakeholders in this venture that benefits humanity and nature, for sharing our mission and vision. Most importantly, we have safeguarded the trust that the entire community has laid upon us."

In volatile market conditions, Sadaharitha has been able to pave its way to the top successfully and effectively and become a leader in the business of commercial forestry. Making timely decisions, introducing best practices in terms of overall management of the company and continuous research and development on commercial forestry have been key contributors to the present position of the company.

"We have laid a sound financial foundation to ensure a sustainable future," Navarathna commented.
Sadaharitha has a sustainable vision for the future in which agarwood plays a vital role as the primary product surpassing other popular species such as mahogany, teak and sandalwood. Sadaharitha has already embarked on the preliminary work to enter the Middle Eastern market with trade operations of agarwood chips and oil as well as agarwood-based expensive perfumes under its own brand. This will ensure a significant return to its customers and other stakeholders in time to come.