---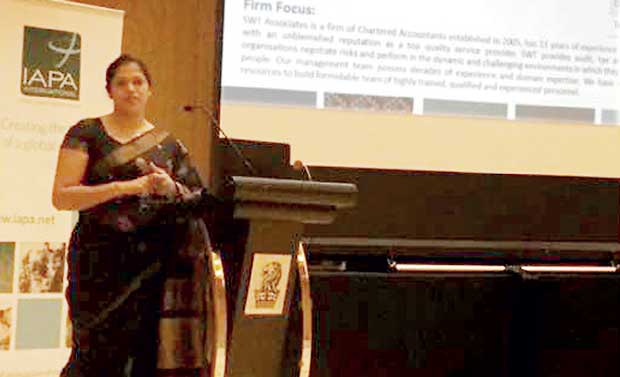 Wajira Kaluarachchi from SWT Associates, Sri Lanka introducing her firm to delegates during the new members' presentations
The UK based International Association of Practicing Accountants (IAPA) recently inducted the Chartered Accountant firm SWT Associates, as its member firm in Sri Lanka.
Martin Clapson, IAPA Vice-Chairman said, "Success in a global market comes from local knowledge. We are delighted to recruit such a dynamic and progressive firm in Sri Lanka, a country where we have previously been unrepresented."
He added, "The affiliation was cemented upon the recently concluded rigorous admission process by our South Asian partner. We were very much convinced that SWT Associates will fit perfectly into our eligibility criteria and their appointment is aligned with the efforts to grow IAPA's representation in Asia Pacific area."
"The IAPA membership will lead to even greater opportunities for SWT Associates to serve our clients, especially when it comes to meeting their international business needs. It's a fantastic opportunity for us to gain new ideas and insights to re-evaluate our international growth strategies to attract new business. We look forward to leverage SWT Associates as the advisory firm of the future with successful, while maintaining IAPA's high standards of professionalism and integrity," said Wajira Kaluarachchi, Managing Partner of SWT Associates.
"We share the same vision for continuing to provide clients with flexible, strategic, and groundbreaking tools to better serve international accounting needs. I see this affiliation as a win-win for both our outstanding memberships and, in particular, for the clients who rely on valuable and trusted resources around the world," she added.