---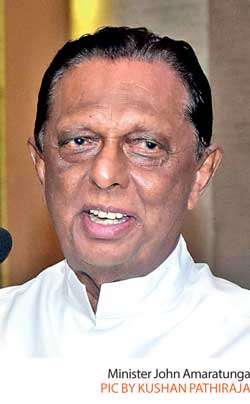 By Nishel Fernando
The Sri Lanka Tourism Development Authority (SLTDA) Monday announced the relaunch of the annual Sri Lanka Tourism Awards, which is scheduled to be held on December 6, following a six-year hiatus.

The award ceremony is aimed at celebrating the achievements of Sri Lanka's tourism industry stakeholders, recognising contributions made by organisations as well as individuals and uplifting the industry standards through promotion of competition.

Addressing a press conference this week to announce the sixth Annual Sri Lanka Tourism Awards, Tourism and Christian Religious Affairs Minister John Amaratunga applauded the SLTDA for taking the initiative to relaunch the award ceremony.

"I commend the chairman of the SLTDA to having initiated Tourism Awards after six years of absence. The industry has grown since the last award ceremony we had, therefore it's essential to recognise the good service of our industry stakeholders," Amaratunga said.

"It (awards) will undoubtedly create competition and at the same time, it will uplift the standards," he added.

The minister was also cautiously optimistic about Sri Lanka being able to surpass the landmark of three million tourist arrivals next year, while meeting the target of 2.5 million tourist arrivals this year.

"If nothing adverse takes place, the climatic conditions remains good and people remain calm, we can go up to 3-3.5 million tourists next year," he said.

Sri Lanka Tourism Awards 2018 will be held under the patronage of Prime Minister Ranil Wickremesinghe and the SLTDA plans to honour 72 best performers in the industry, under 11 award categories.

Sri Lanka Tourism Awards Project Coordinator Trevin Gomez said that the awards would be divided into three major categories: Accommodation, Travel and Tourism and Specified Tourism Sectors.
---
SL to partner Alibaba's Fliggy to attract more Chinese tourists
Sri Lanka will partner with Chinese e-commerce giant Alibaba's online travel platform Fliggy, to jointly promote Sri Lanka to initially attract additional 1,000 Chinese tourists per week, Tourism and Christian Religious Affairs Minister John Amaratunga told reporters on Monday.

The minister said the Sri Lanka Tourism Promotion Bureau (SLTPB) would sign the relevant memorandum of understanding (MoU) shortly with Fliggy after securing the SLTPB board approval.

SLTPB Managing Director Sutheash Balasubramaniam said the proposed joint promotion partnership with Fliggy would assist Sri Lanka to attract Chinese tourists who are keen on travelling without the assistance of travel agencies.
He further said that Sri Lanka would have a page on Fliggy as a destination with relevant content while Alibaba is expected to approach destination management companies, hotels and tour operators to bring them to the platform.

Balasubramaniam noted that the SLTPB is in the final phases of finalising the MoU with Alibaba.

Fliggy has already launched an online visa centre for Chinese travellers visiting Sri Lanka.

Fliggy is also equipped with a mobile app to create one-stop shop for travel services through partnerships with major airlines, ticketing and travel agencies.

Fliggy has over 200 million registered users and has access to more than 500 million mobile monthly active users on Alibaba's China retail marketplaces.