---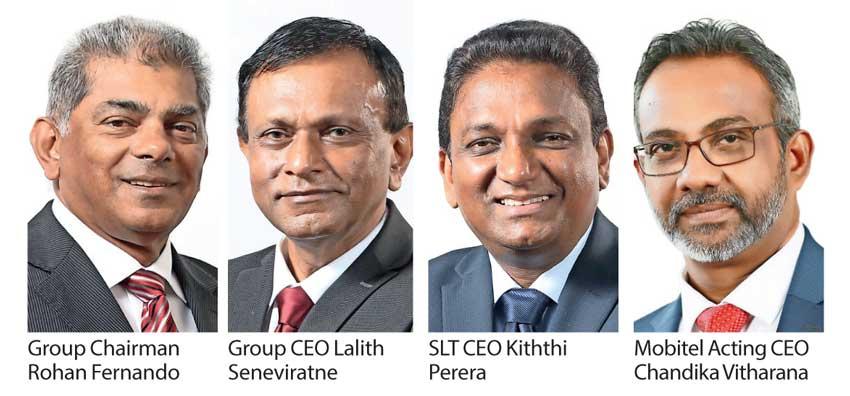 State-controlled Sri Lanka Telecom PLC (SLT) fared better in the three months ended December 2020 (4Q20), as the telecommunication industry rode on the pandemic-fuelled demand for data and other virtual connectivity services, with people mostly hooked on to their smartphones and computers for most of their needs.

As the country's largest fixed line operator with the second largest mobile service provider in terms of number of subscribers, SLT reported revenues of Rs.23.9 billion for the quarter under review, up 8.1 percent from the same period in 2019.

The group's share ended at Rs.36.10 yesterday, 80 cents or 2.17 percent lower, giving it a market capitalisation of Rs.65.2 billion.

"In the short run, the company experienced a positive impact in areas such as broadband, IPTV and career business services, due to the surge in utilisation in the residential and business sectors, with the shift towards work from home arrangements in continuing the businesses. In addition, future opportunities are emerging with novel digital products and services,"
SLT said.

The group, which owns its fully-owned celco, Mobitel (Pvt.) Limited, unveiled its massive promotional campaign in the December quarter to announce its brand unification between
SLT-Mobitel.
The sales and marketing costs rose by Rs.216 million or 8.8 percent to Rs.2,682 million in the three months to December, compared to the same period in 2019.

At operating level, the group reported a profit of Rs.1.9 billion, up 27 percent from the same period in 2019.
The group reported earnings of Rs.63 cents a share or Rs.1.13 billion for the quarter under review, compared to 74 cents a share or Rs.1.34 billion in the corresponding period in 2019.

Interest expenses and foreign exchange losses weighed on the bottom line while the group booked a tax charge of Rs.244 million, compared to a tax reversal of Rs.95 million in the same period, last year.

In order to safeguard itself from the potential foreign currency fluctuations on its foreign exchange-denominated loans, SLT said it "fully settled all the foreign currency-denominated loans as at the end of the financial year.
Further, the company entered into forward exchange contracts for imports to mitigate foreign exchange risk arising due to currency fluctuations".

By December 31, 2020, the national Treasury on behalf of the Sri Lankan government directly held a 49.50 percent stake in SLT while Global Telecommunications Holdings NV, the wholly-owned subsidiary of Malaysian investment holding company, Usaha Tegas Sdn Bhd, held a 44.98 percent stake.

The Employees' Provident Fund held another 1.40 percent stake, being the third largest shareholder.