---
Revenues and profits rose at Sri Lanka Telecom PLC (SLT) during the three months to September 30, 2019 (3Q19), but the rise in borrowings in view of capital-heavy investments to stay in line with the technological trends is expected to weigh on the group's cash flows and earnings for the foreseeable future.

SLT, Sri Lanka's leading fixed line telecommunication services provider, reported revenues of Rs.21.3 billion for the quarter under review, up 3.11 percent year-on-year (YoY).
This is despite the challenges on revenue from voice due to the rise in internet consumption, the company stated.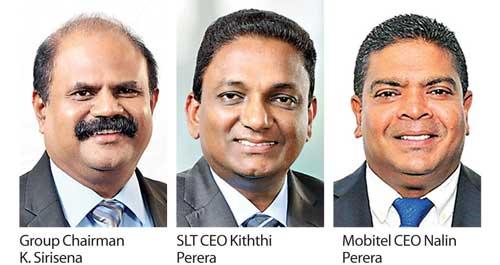 Fitch Ratings in an earlier report said the future growth would be driven largely by data and estimated a mid-single digit percentage growth in revenues for the company in 2019 and 2020. During the quarter under review, operating profit rose by 30.4 percent YoY to Rs.2.62 billion.
Apart from the fixed line voice and internet services, the SLT group offers mobile voice and broadband services through its fully-owned subsidiary Mobitel (Pvt) Limited, which recently entered into the provision of data hosting and cloud computing services.

"Further, SLT's mobile arm, Mobitel (Pvt) Ltd successfully launched 5G trials and pilot deployments anticipating commercial roll-outs in the near future," SLT said in an earnings release.
SLT also launched an accelerated fibre initiative to connect 2.0 million households through fiber-to-the-home (FTTH) by 2022, from 70,000 homes currently connected.

As this will require continuous investments, Fitch Ratings in an earlier report said the SLT group would continue to require high capex, which cannot be solely funded through its operating cash flow.

Despite the high investments, Fitch expects fibre investments to have low returns due to the country's low broadband tariffs.

Nevertheless SLT's capex requirements are expected to be at a high of around 28 percent to 30 percent of group revenues in 2019, as the company aims to complete the 4G population coverage to 95 percent by end 2019, Fitch said.

However, the SLT management expects its capex/revenue to decline to around 18 percent to 20 percent in 2019.

In early September, SLT received capital approval to issue new shares via a private placement where State-owned public enterprises and captive funds had been directed to invest in the company's equity.

The group reported earnings of 83 cents a share or Rs.1.49 billion in total earnings for the July – October period compared to earnings of 64 cents a share or Rs.1.15 billion reported for the same period last year.

During FY19, SLT refinanced its maturing foreign currency debt of about US$ 12 million through domestic debt which enabled the group to reduce its foreign exchange losses to Rs.43 million from Rs.564 million a year ago.

The group booked Rs.794 million in finance cost for the three months, rising from Rs.83 million a year ago.

Meanwhile, for the nine months ended September 30, 2019, the SLT group reported earnings of Rs.2.76 a share or Rs.4.98 billion, up 25 percent YoY on revenue of Rs.63.9 billion, up 6.3 percent YoY.

The government has 49.50 percent stake in SLT while Malaysia's Usaha Tegas Sdn Bhd being the firm's second largest shareholder has 44.98 percent. The Employees' Provident Fund also has 1.40 percent stake in SLT being the third largest shareholder.