---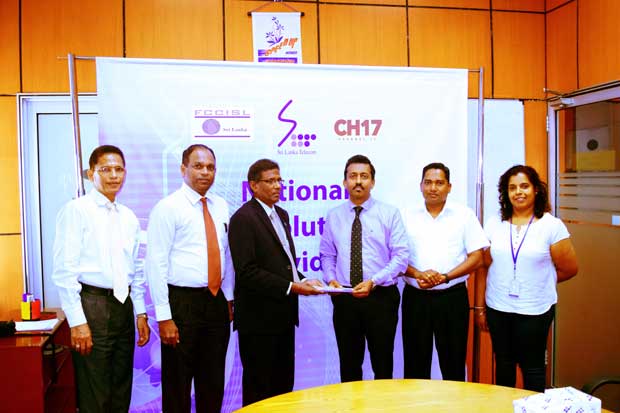 FCCISL/ SLT exchanging documents on their partnership. From left: Jumar Preena CEO CH17 Loyalty, Ajith Perera Secretary General FCCISL, Sarath Kahapalarachchi Chairman FCCISL, Prabhath Dahanayake GM Product Development Management SLT, Sanjeewa Jayamaha DGM Product Development and Management SLT and Chamary Jayatissa Product Manager SLT
The Federation of Chamber of Commerce and Industry (FCCISL) with the concurrence of the Ministry of Industry and Commerce will shortly introduce a nationwide programme to bring all micro, small and medium scale businesses to a mainstream platform with the objective of lending support and guidance for a productive and improved overall performance by this sector.
"We will support those engaged in any formal or informal business or trading that provides a service to the community and contributes towards strengthening of this sector," Sarath Kahapalarachchi Chairman of the Federation said.
"The FCCISL together with CH17 Loyalty have mapped out a programme, that will identify micro and SMEs, formally recognise them, incorporate them to the national network and reward and recognise them for their service to the community," Jumar Preena CEO of CH17 Loyalty and the architect of the program declared.
We also have a very strong partnership with Commercial Bank and MasterCard who will also join this program and chip in with their expertise, services and facilities exclusively for this sector. For the first time a SME Branded Privilege MasterCard Debit/Credit Card will be issued to a registered member, Jumar added.
CH17 Loyalty will play a vital role in facilitating privileges and benefits to registered micro, SMEs from their own network of merchants and retailers of consumer products. We want to develop a digital platform that will provide services such as, market information, market access, B2B networking, and on-line business solutions etc. All these facilities and services will be at very nominal cost and concessionary terms,
Jumar assured.
Primary among them will be the concessions extended to the programme by Sri Lanka Telecom (SLT) whose services form the backbone of any commercial business. The SLT has been very generous in offering up to 60 percent in discount on a number of their product range. In addition the Enterprise Solution Division of SLT will also assist in providing combination of enterprise solutions for a concessionary rate.
"We want to extend our support to the MSMEs to grow and develop their business, which in the long run help the country to have a strong and robust GDP," said Prabath Dahanayake GM Product Development Management of SLT.
"Our unmatched technology and resources in the field of telecommunication and the strength of our superior and reliable services would be added benefit to this sector. We have the most talented and dedicated team of professionals who can advice on any business solutions whether they are large or small projects, Sanjeewa Jayamaha DGM Product Development and Management said.
Ajith Perera Secretary General of FCCISL said that the Federation would welcome any individual or partnerships engaged in any regular business to register and avail themselves of the great benefits that are in store for them through
this programme.
"No matter how small their business is, provided there is a regular turnover, we will support them", he assured.
There are a lot of them out there who fall in to this category unfortunately very many do not even know the definition of MSME and they carry on with their business unrecognized, he added.
In the absence of a central database we cannot make an accurate assessment of this vital sector. Everyone goes by their own guesstimates. There are many agencies both government run as well non-governmental who collate data in their own.