---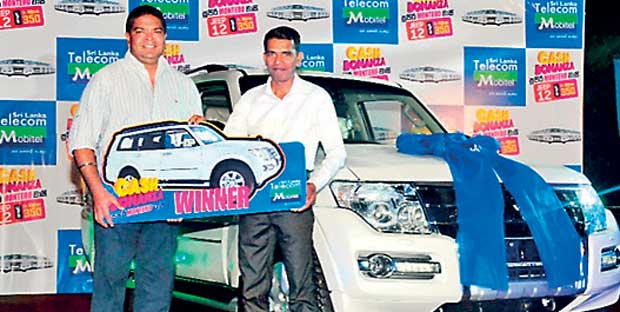 SLT Mobitel Chief Operating Officer Nalin Perera awarding Cash Bonanza 2016 March winner R. M. Roshan Priyadarshana from Badalkumbura the Montero
The National Mobile Service Provider, SLT Mobitel has yet again outdone itself with the introduction of the Cash Bonanza programme for the year 2016 which will reward customers on a monthly and daily basis. The telecom giant will be awarding an amazing Rs 350 million to its customers throughout 2016.
This makes history as the largest prize giveaway undertaken by a Telecom Operator in the country. The highlight of the draw for 2016 is that 12 lucky monthly winners will be walking away with a luxury Mitsubishi Montero each.
The Cash Bonanza prize giving for March commenced with a musical show where the performing band was the 'Marians' along with various popular artist performances. SLT Mobitel awarded the 3rd Montero prize to its customer, R. M. Roshan Priyadarshana from Badalkumbura and the prize was awarded to him by SLT Mobitel Chief Operating Officer Nalin Perera. He is the third lucky customer to walk away with the March Mitsubishi Montero from Mobitel. Along with the brand new Mitsubishi Montero, Cash Bonanza awarded an additional 168,350 customers with prizes worth over Rs87 million up to March 2016.
Mobitel Pre-paid, Post-Paid and Broadband customers are eligible to win other prizes through the Mobitel Cash Bonanza draw with every Rs 50/- cash recharge, reload or Post-Paid bill value payment. Pre-Paid winning customers will receive the prize by way of talk time for the same value and Post-Paid winning customers will receive the prize by way of a rebate on their Post-Paid bill.
Cash Bonanza winners will only be notified via Mobitel's customer hotline 071 27 55 777 and in writing via post. Customers will not be charged an additional fee for any prizes they have won.