---
Sri Lanka Telecom PLC (SLT) is likely to see some challenging operating conditions ahead with its top line showing signs of plateauing with the profits getting squeezed over the ever increasing heavy investments required to stay technologically relevant, a phenomenon that is common to all telecommunication providers.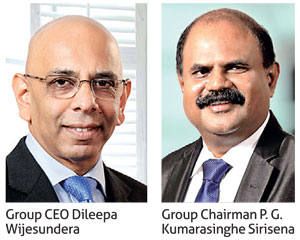 The interim financial accounts filed with the Colombo Stock Exchange (CSE) last week showed that SLT group, the country's largest fixed line operator, reporting a revenue of Rs.18.7 billion for the April-June quarter (2Q17) against Rs.18.3 billion for the same period last year, roughly a 2.4 percent increase year-on-year (YoY).

Operating costs for the group, which also runs a mobile arm under Mobitel Private Limited, remained little changed at Rs.13.3 billion. Mobitel accounted for 45 percent of the group top line. However, depreciations rose by almost Rs.750 million during the 12 months to June to over Rs.4.0 billion
for the quarter.
Since December 2016, the group has invested roughly Rs.3.0 billion in new infrastructure.
"The decrease in group profits reflected the increase in depreciation due to high investments in infrastructure", SLT said in a statement issued after the interim results were filed. The group operating profits were down about 19 percent YoY to Rs.1.17 billion while the group earnings also fell 4.3 percent YoY to Rs.1.05 billion or 58 cents a share from Rs.1.10 billion or 61 cents a share YoY.
SLT share ended in the green last week at Rs.30.80, up 80 cents or 2.67 percent but remains less than the net assets per share of Rs.38.60. Telcos are investing heavily in new technologies such as 4G to 4.5G, and now in 5G, in a continuous run to gain the first mover advantage but the question remains whether the subscribers often follow these technologies at the same pace.

And most of the times, subscribers think twice before making the shift because that itself needs a sizeable investment on their part or alternatively they could be better off with the current version, at least for some time, which is often longer than what the service provider would want. The common issue faced by the telcos today is that these heavy and continuous investments have longer gestation periods.

Also, these investments could not always be justified given the snail pace top line growths of in the case of the SLT as well almost all other telcos operating in the country.

SLT said it field tested pre-5G LTE Advanced Pro Technology becoming the first in South Asia. Meanwhile it has further expanded fibre to the home/premises (FTTH/P) up to 100 Mbps speed and 4G/LTE expansion, "catering to the growing demand".

The group borrowings during the six months ended June 30, 2017 (1Q17) rose by as much as Rs.7.4 billion but the gearing ratio little changed to 0.37 times. Meanwhile, the current voice revenue which still fills bulk of SLT top line and also profits, is also rapidly getting replaced by data revenue which is often lower and stable unless the subscriber base expands.

This is also another development which will put pressure on the industry top and bottom line growth as today's subscribers often tend to substitute data for voice.

This transition will certainly get a further boost from the removal of 10 percent telecommunication levy on data services that announced last week.

Till then, users were paying effective 49 percent additionally as taxes on their data usage and also on other telecommunication services.

Meanwhile, for the 1H17, SLT group reported earnings of Rs.2.5 billion or Rs.1.39 a share, down 11.3 percent from a year earlier.

The top line grew by about 2.0 percent YoY to Rs.37.4 billion but the depreciation charges rose by as much as Rs.1.4 billion YoY.

As of June 30, the Sri Lankan government directly held 49.50 percent stake in SLT while Malaysia's Global Telecommunications Holdings NV, s subsidiary of Malaysia's Maxis, held 44.98 percent stake being the second largest shareholder.

The Employees' Provident Fund held another 1.40 percent stake being the distant third largest shareholder.

SLT is not in compliance with the CSE's minimum public holding requirement as public held only 5.52 percent stake of the company and the float adjusted market capitalisation stands at Rs.3.17 billion.
In a disclosure filed last week, the company said its board of directors is evaluating option to comply with the minimum public holding requirement.