---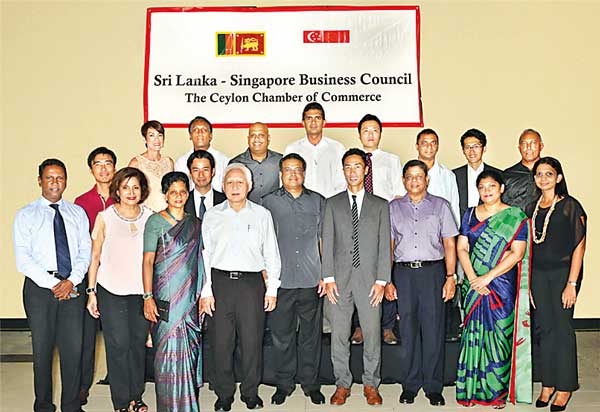 The committees of the Sri Lanka – Singapore Business Council and Singapore (Sri Lanka) Club together with the senior officials of the BoI, EDB, Sri Lanka Customs and invitees from the Embassy of Japan, JETRO and KOTRA
A joint Networking Evening was organised by the Sri Lanka – Singapore Business Council (SLSBC) of the Ceylon Chamber of Commerce and Singapore (Sri Lanka) Club recently. The event was organised with the objective of providing an opportunity for the members to interact amongst themselves, with the Singapore expatriate community in Sri Lanka and the senior officials of the key government institutions relevant to business.
The event was also organised keeping with the objective of the Sri Lanka – Singapore Business Council as a facilitator of business for its members. The event, which was held at the Clubhouse at Havelock City, Colombo 6, was well attended by over 100 persons, including the members of the SLSBC, which has now grown to 74-member companies, members of the Singapore Club and special invitees. The representatives of Prima, Overseas Realty, Singapore Airlines, Pico–SLECC, Fujitec Lanka and other Singapore connected companies attended the event.
The senior officials of the Board of Investment (BoI), Export Development Board (EDB), Sri Lanka Tourism Development Authority, Sri Lanka Customs as well as representatives from the Japan External Trade Organisation (JETRO), Korea Trade-Investment Promotion Agency (KOTRA), Embassy of Japan and Embassy of the People's Republic of China, were amongst the special invitees. Spear Global Holdings (Pvt.) Ltd Chairman/Managing Director and Sri Lanka – Singapore Business Council President Shamil Mendis, the SLSBC committee, Singapore (Sri Lanka) Club President Jay Ong and the club's committee welcomed the members.
The Sri Lanka – Singapore Business Council was inaugurated in 1997 as the 18th bilateral business council formed under the aegis of the Ceylon Chamber of Commerce. The prime objective of the council is to promote trade and tourism and to create an environment to enhance the commercial activity between Sri Lanka and Singapore as well as to facilitate investment by Singapore companies in Sri Lanka.
Following the successfully concluded trade and investment promotion missions to Singapore last year, the SLSBC intends to organise the next business delegation to Singapore in mid-2016 in conjunction with the High Commission of Sri Lanka in Singapore and Singapore Business Federation (SBF), Singapore's apex and largest business chamber. At this time, the SBF, with a membership of over 16,000 members, plans to conduct a seminar titled 'Doing Business in Sri Lanka' followed by a business matchmaking session.
Several inward delegations are expected from Singapore in the period ahead. The SLSBC is in regular contact with the SBF, IE Singapore, the government agency driving Singapore's external economy, Singapore Chinese Chamber of Commerce and Industry, Singapore Indian Chamber of Commerce and Industry, Singapore Malay Chamber of Commerce and Industry and Singapore Manufacturing Federation