---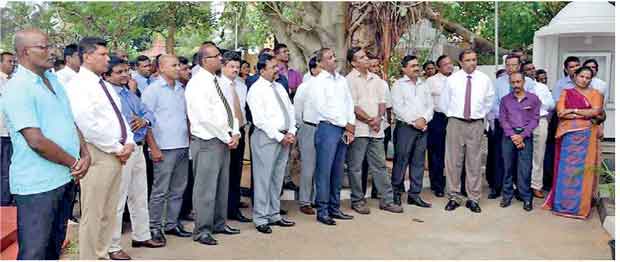 The Sri Lanka Ports Authority (SLPA) commenced the new year with the government's pledge for all public sector employees.

The function to mark the official commencement of work in the SLPA took place yesterday with religious activities at the Sambuddha Jayanthi Cahithya premises.
Speaking at the occasion, SLPA Chairman Dr. Parakrama Dissanayake said that 2018 became an exclusively important year for the SLPA.

"With a productive salary increment for all employees, the SLPA hopes to effectively face global maritime competition and challenges in collaboration with the SAGT and CICT. In order to fulfil this initiative, it is important that all employees ensure an efficient service to increase further productivity in the institution.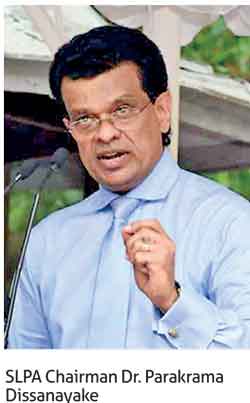 During the year, employees will also see an enhanced human resource development through a new human resource development plan. Steps will also be taken to expedite the total constructions to commence operations at the East Terminal," Dr. Dissanayake added.

Dr. Dissanayake also stated that 2017 was a landmark year for the SLPA that worked to get rid of the burden of high debts, through timely strategic procedures implemented with the initiative and under the leadership of Ports and Shipping Minister Mahinda Samarasinghe.

Further speaking he said that the SLPA with enhanced efficiency together with other terminals achieved over six million TEUS at the Port of Colombo in 2017 for the first time in the history.

"In its journey towards achieving the hub status in the region, the Port of Colombo has achieved the first place in the South Asian region. I am pleased to extend my gratitude to the management, staffs and all employees of the SLPA and other stakeholders who immensely contributed towards such achievements through dedicated efforts," Dr. Dissanayake said.

SLPA Vice Chairman P.G. Dasanayake, Managing Director H.D.A.S. Premachandra, Additional Managing Director A.D.T. Gunasekara, officials of the Ports and Shipping Ministry, the SLPA directors and heads of divisions, a number of staff executive officers, representatives of trade unions and employees of the SLPA also attended the occasion.