---
The Sri Lanka Institute of Directors (SLID) together with IFC, a member of the World Bank Group, is conducting a program exclusively for Non-Executive and Independent Directors on driving good corporate governance forward.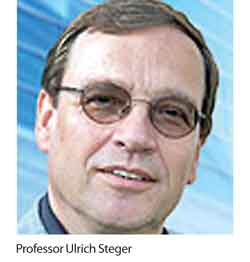 This program is being conducted by a German Professor Ulrich Steger, who works for the World Bank Group to run seminars for Board Members in developing countries. He will, together with IFC, conduct this very interactive program for the Sri Lanka Institute of Directors on 26th of April from 8.30am to 5.30pm at the Galle Face Hotel.
This workshop will focus on the main questions in creating a "best-practice" Corporate Governance system. It will be tailored to the specific needs of the company (shaped by industry and capital market requirements, ownership structure or personalities in a cultural context):
Creating a shared understanding of what good Corporate Governance is all about and what are the benefits;
Developing an implementation strategy by building alliances to overcome resistances; and
Looking at skills and behaviors to drive this process.
The learning platform for the workshop are selected chapters of the IFC book "The incredible adventures of Carla", which focuses on directorship and leadership skills in the boardroom. Written as a novel, it describes the learning journey of a fictional nominee director. It describes the life-cycle of a non-executive director from on-boarding to a successful IPO – and all the obstacles and backlashes experienced along the way. The seminar is highly interactive, driven to results by an international learning facilitator and based on the shard experience of the participants.
Professor Ulrich Steger joined one of the world's premier business and management institutions the International Institute for Management Development(IMD) Business School in Switzerland in 1995. Since then he has directed many top management programs and the Board Program (also special programs for key clients on Corporate Governance). He has lead IMD's research on complexity, corporate sustainability and global corporate governance. Since 1983, Ulrich Steger has served as Chairman, Vice Chairman or Member of (Supervisory) Boards in Germany, Switzerland, Malaysia and the UK. He was also a Member of the Managing Board of Volkswagen. Previously, he was a professor at the European Business School (OestrichWinkel/Rhg.) and a Minister of Economics and Technology in the State of Hesse and in the German Federal Parliament.
Professor Steger received a PhD in Mathematical Growth Theory in 1975 from the Ruhr University in Bochum and received his Habilitation in 1991. He also served three years in the German Armed Forces as a parachute ranger. For those interested in participating, please communicate with the SLID Secretariat on 0112301646-8 or email [email protected] as the intake is limited.