---
Sathis Abeywickrama, a personality well known to the printing and packaging fraternity was presented the prestigious Lifetime Achievement Award by the Sri Lanka Association of Printers (SLAP)- the main body of printers in Sri Lanka,at the recently concluded Collate 2016 bi-annual eventorganized by the SLAP.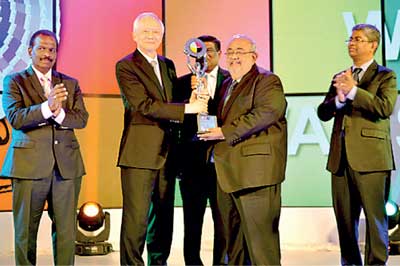 Sathis started his career as a temporary supervisor after his A/L's at Aitken Spence Printing. He was promoted as a management trainee and specialized in selling and marketing offset printed packaging. After leaving Aitken Spence he workeda couple of years at another printing company and then ventured out on his own by starting Print USA (Pvt) Ltd. Thereafter, he inaugurated Flexiprint (Pvt) Ltd.
Today, Print USA (Pvt) Ltd is a prominent player servicing the needs of Sri Lankan companies for value added printing and packaging. Flexiprint (Pvt) Ltd is the largest player in the tea bag tags and envelopes industry fulfilling the needs of Sri Lankan companies as well as fulfilling a major portion of the world-wide requirement for tea bag tags and envelopes.
Sathis was the President of SLAP in the years 2000 - 2003 where he did a yeomen service by making SLAP a leading association among similar institutions and also gave it much prominence and recognitionwithin the Indian sub-continent. He was successful in initiating funding from the USA which helped the SLAP to grow into a successful corporate body from a simple association. Today, SLAP caters to a membership of over 2000. Sathis always said that the printers are an important factor in the business mix which other businesses can't live without no matter what they are. The growth of the printing industry aids the Nation in a positive way and is an indicator of the good health of aNation's business sector.
In addition to being a printer and an entrepreneur, Sathis is a humanitarian and agriculturist. He has undertaken many humanitarian and community projects in his home village of Morawaka in the southern province which have been sponsored by himself.
Members of the printing fraternity expressed their pleasure that Sathis very well deserves the Lifetime Achievement Award that was presented to him in recognition of his outstanding service to the printing industry by building a true catalyst to the trade.