---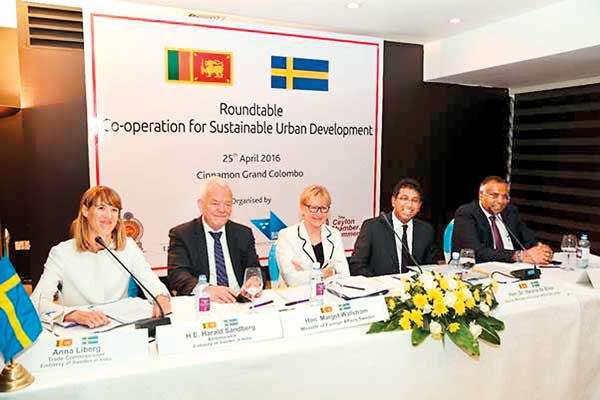 The Ceylon Chamber of Commerce (CCC) Chairman said Sri Lanka should avoid mistakes done by other South Asian cities, when developing the proposed Western Megapolis Project.
"A centre piece of the government's economic development agenda - the Western Region Megapolis project is set to have a massive urban infrastructure build. But we need to get it right. We must have a strong sustainability focus in this. As a late comer to urbanization, Sri Lanka has a unique opportunity to do things differently and avoid the mistakes of some other Asian cities," said CCC Chairman Samantha Ranatunga.

He made this observation when he addressed the gathering at the roundtable discussion on 'Co-operation for Sustainable Urban Development' held recently at Cinnamon Grand Colombo.

The roundtable discussion was organised by the CCC on the request of the Foreign Affairs Ministry in association with the Embassy of Sweden in New Delhi and also the Consulate General of Sweden in Sri Lanka. The roundtable discussion saw the participation of Swedish Foreign Affairs Minister Margot Wallstrom. The representatives of leading Swedish companies such as ABB, Axis, Ericsson, Saab, Scania and Volvo attended the discussion and shared their experience of doing business successfully in Sri Lanka.

Wallstrom extended a warm welcome to the participants of the roundtable and explained as to how Swedish companies can collaborate to contribute to Sri Lanka's sustainable urban development initiative and inclusive nation building.

Representatives of government institutions such the Board of Investment of Sri Lanka, Foreign Affairs Ministry Sri Lanka, Sri Lanka Ports Authority, Sri Lanka Export Development Board and Western Region Megapolis Planning Project shared their views at the roundtable discussion.