---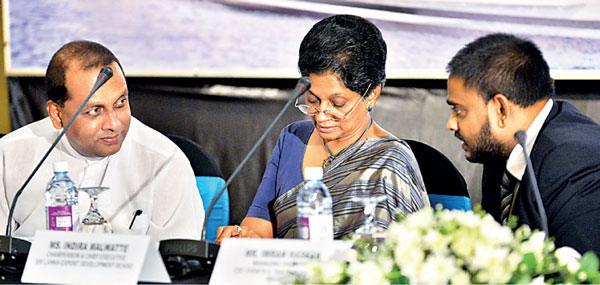 Minister of Fisheries and Aquatic Resources- Mahinda Amaraweera, Sri Lanka Export Development, Board Chairperson-Indira Malwatte and CDC Events and Travels (Pvt) Ltd Managing Director - Imran Hassan in conversation during the media briefing held to announce the event
By Shabiya Ali Ahlam
Sri Lanka's thriving marine industry will come under fresh spotlight this year with the fifth edition of the Boat Show and Fisheries exhibition set to kick off in October.

The biannual exhibition that will showcase the nation's capabilities in this arena will be held from 13 to 15 October at the Dickowita Fisheries Harbour, Colombo. It is organised by Sri Lanka Export Development Board (EDB), Boat Building Technology Improvement Institute (BTI) in association with Ministry of Development Strategies and International Trade, Ministry of Fisheries and Aquatic Resources and Ministry of Industry & Commerce at Dickowita Fishery Harbour, Colombo.
Considered as South Asia's most focused and largest international boat, the exhibition continues to build a strong network for Sri Lankan Boat Industry.

The event is objected towards providing a single platform for all related business sectors involved directly and indirectly in the boat and ship building industry and fisheries sector to display and promote their respective sectors for potential clients.

The latest edition of the exhibition will see the setting up of 50 stalls. Special feature of the show include the first ever on- water display where a number of boating and water sports activities would be provided for enthusiasts. Another feature is the exhibition being open for the fisheries sector.
With the event coinciding with the World Export Development Forum 2016 that will be held from 12 to 13 October 2016, over 600 business leaders, policymakers, heads of trade, investment support institutions and international trade development officials is expected to visit the event.

The previous edition held in 2014 attracted over 10,000 visitors including 300 foreign industry representatives from Maldives, Seychelles, Oman, Dubai, India, France, Belgium, UK, Germany, and Netherlands.
Since the beginning of the Boat Show Sri Lanka in 2008 the country has recorded an average export turnover of US $ 80 million and 2011 recorded the highest so far with a figure of US $ 149 million. The wide range of products and services offered from this sector includes yachts, pleasure & leisure boats, fishing boats, fast attack crafts, passenger, sports, rescue, coast guard and petrol boats and boat building accessories.
The EDB has identified the Boat building industry as a key product sector which contributes remarkably to achieve the national export targets of the country. Sri Lanka's main export markets for ships and boats are Singapore, India, The Netherlands, Norway, Seychelles, Maldives, African region and Mauritius.

Although there are 13 major fishery harbours, 15 anchorages and 1053 landing sites on the coastal belt the full potential of the ocean is yet to be utilized.
With much of the Sri Lanka's tourism being beach-based, industry stakeholders observed the sector would require pleasure sail boats and boats for sea excursions for whale/dolphin watching, leisure fishing, snorkelling, and scuba diving.