---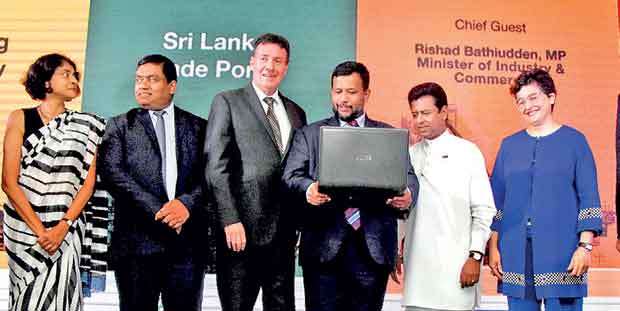 .From left: Sri Lanka DG Commerce Sonali Wijeratne, Secretary Ministry of Industry and Commerce K.D.N. Ranjith Asoka, Australian High Commissioner to Sri Lanka and Maldives Bryce Hutchesson, Minister of Industry and Commerce Rishad Bathiudeen, Deputy Minister of Industry and Commerce Buddika Pathirana, and the visiting Executive Director of the International Trade Centre (ITC) Arancha Gonzalez at national launch of Sri Lanka Trade Information Portal (SLTIP).

Pic by Nimalsiri Edirisinghe
By Shabiya Ali Ahlam
Sri Lanka yesterday took the first step towards implementing its national export strategy by making available to the business community the Sri Lanka Trade Information Portal (SLTIP), a one-stop-shop to gather details with regard to trading with the island nation.

The much required portal was launched following repeated concerns expressed by the business community on the difficulties in gaining access to information that is relevant, timely and accurate.

Prior to the launch of the portal, relevant information was spread across a number of websites of government agencies and departments.

The portal is hosted by the Department of Commerce in collaboration with the National Trade Facilitation Committee, and is developed with support from the World Bank (WB) and Australian High Commission in Sri Lanka.

The new initiative is expected to improve the predictability and transparency of the country's business environment and provide foreign and domestic investors with instant access to trade rules and regulations. The SLTIP places in one place over 1000 pieces of information, including laws, regulations, procedures, fees, and other measures affecting trade maintained by forty-two government agencies. The information is made available in the languages of Sinhala, Tamil, and English.
While it is also the latest initiative of the government to help increase access to information relating to cross border trade, the platform is in compliance with the World Trade Organisation's (WTO) Trade Facilitation Agreement.

SLTIP aims to save businesses time and operational costs, especially for small and medium enterprises interested or involved in the import, export and transit businesses.

Included in the portal is also an overview of Sri Lanka's economy, business startup processes, import and export guidelines, and information on special economic areas and export processing zones, among others.

"Trade is an important engine of growth for Sri Lanka and having fast and easy access to information on import and export procedures is crucial for traders and investors. The portal is an essential piece of a larger. on-going effort by the government to enhance trade facilitation and attract foreign investments and the World Bank stands ready to continue to provide support to these important efforts," said World Bank Senior Trade Specialist Marcus Bartley Johns.
According to Johns who has helped establish six other counties with such portals, Sri Lanka is the first to have achieved 99.8 percent information validity at the time of launch.

According to the government, the SLTIP is a 'major' step towards creating a conducive environment for doing Business in Sri Lanka. Stakeholders involved in making available the platform asserted the need for relevant government agencies and department to continue to feed content on a regular basis to ensure its relevance.
The portal was launched in the presence of senior officials of the government, Ministry of Industry and Commerce, World Bank, Australian High Commission and visiting International Trade Center Executive Director Arancha Gonzalez, along with representative of the private sector.