---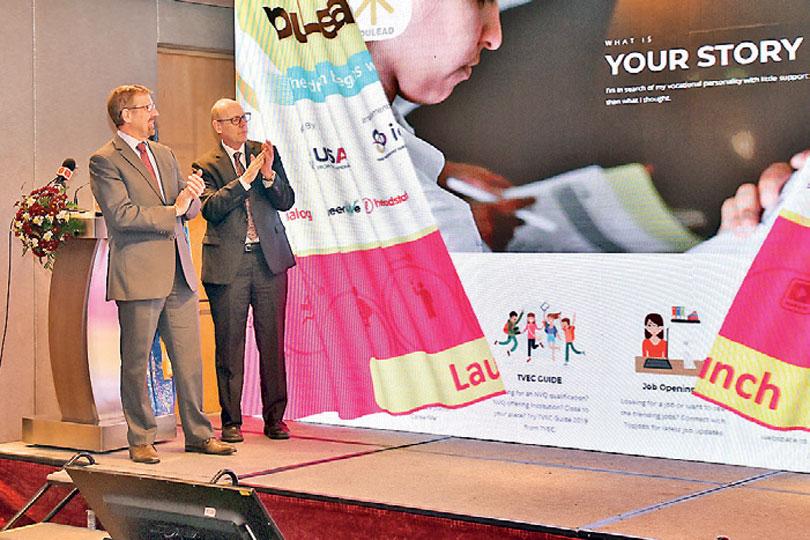 Unveiling the youlead.lk platform. From left: YouLead Project Director Charles Conconi and USAID Mission Director Reed J. Aeschliman
Pic by Kushan Pathiraja
By Shabiya Ali Ahlam
Sri Lanka's guidance space yesterday witnessed much required impetus with the launch of an online employment and entrepreneurship platform for the country's youth.
YouLead, a programme that kicked off 19 months ago and funded by the US Agency for International Development (USAID), received its very own portal to help streamline efforts, following the progress the project has achieved since its establishment.

The portal, www.youlead.lk, is backed by Microsoft and was launched as a technology platform that serves as a comprehensive resource for the youth, so that they are ready with the required skills and talents to enter the workforce.

YouLead was conceptualized with the aim of improving technical and vocational education and training access, thus improving the employability of young people in the country.
The initiative strives to create a more skilled and flexible workforce through activities that support and strengthen students, teachers, and institutions.

The newly launched platform offers features such as career testing, job matching, online courses and links financial institutions to entrepreneurs.
The youlead.lk is part of the project that was initiated in 2017, and will reach completion by 2021 with a total funding of US $ 12 million. Administered by Volunteers for Economic Growth Alliance (VEGA) and implemented by International Executive Service Corps (IESC), the project has also received US $ 1.8 million as partner support. From the local perspective, YouLead has brought on to one platform international and Sri Lankan experts to add and improve content whilst ensuring the sustainability of the platform.

Speaking on the assistance offered by the US to the local youth, USAID Mission Director for Sri Lanka and Maldives Reed Aeschliman said the US is "committed to creating a skilled workforce and creating employment opportunities for the Sri Lankan youth." The platform is designed and created with original content and is made available in the languages of Sinhala, Tamil, and English. Heavily customized, according to the developers, youlead.lk provides a practical and sustainable solution to the youth unemployment issue in
Sri Lanka. The platform is expected to act as a catalyst to attract, train and retain the youth, so that the economy is fuelled with a workforce that is equipped with the relevant and required talents and skills. Youlead.lk is expected to play a critical role in addressing the lack of reliable information on jobs and training opportunities.