---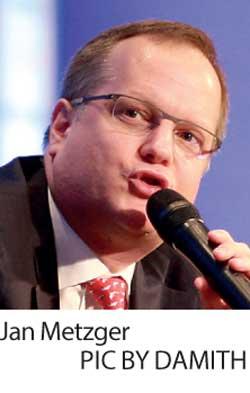 As an effort to rectify Sri Lanka's growing issue of grim productivity levels across diverse sectors, a senior representative of the regional banking industry stressed that the relevant authorities should actively look at reversing the ongoing brain drain
Highlighting the vision of Sri Lanka five years from today, at Sri Lanka Economic Summit 2019, Citi Bank Asia Pacific Banking Capital Market and Advisory Head Jan Metzger said, "One of the biggest underused opportunities Sri Lanka has is to reverse the brain drain."

Taking the example of regional peers such as India and China, where much of their well-established companies have successfully recruited returnees, he opined Sri Lanka too should look at taking a similar approach, if it is to achieve substantial progress as planned.

According to Metzger, the current scenario in this regard is not made friendly, starting from the visa required; it is a lengthy process to undergo.

"That is a huge untapped potential," he reiterated. "You have hundreds and thousands of super smart Lankans, who you need to persuade to come home," said the Citi regional chief to the audience that consisted of private and state sector employees, along with key government authorities.
At present, of the annual migrant workers, about 55 percent constitute unskilled and semi-skilled categories, while about 32 percent belong to the skilled categories.
The World Bank in its latest Country Development Report stressed that human capital, which contains the knowledge, skills and health accumulated by people over their lives, is the key driver of economic growth and is imperative for Sri Lanka. The agency forecasts that even though Sri Lanka becomes successful in improving the female labour participation rates, a decline in the overall labour force is highly likely. (SAA)