---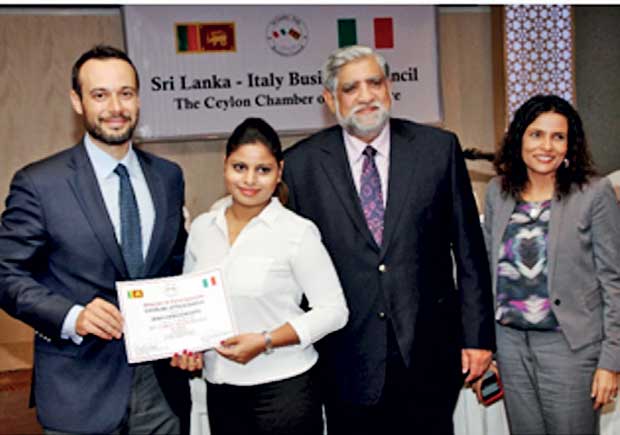 Imalka Maduwanthi, who followed the course during the third batch, receives her certificate from Dr. Giandomenico Milano for the completion of the Italian language course
The Sri Lanka–Italy Business Council of the Ceylon Chamber of Commerce will launch the fourth batch of its successful Italian language course on February 18, 2017.
The eight-week course would be conducted during Saturday mornings and will be taught by an experienced native Italian national teacher residing in Sri Lanka, who has also taught the previous three batches.
This course will enable Sri Lankans to gain a competitive advantage when dealing with Italy, whether it is in the areas of trade, culture, education or any other bilateral relationship.
The Beginners course will cover areas such as construction of basic phrases, interrogative, causative and temporal sentences, pronouns, adjectives and also the practice of conversation and
Italian culture.
There will also be an Advanced Learners course, which would be mainly directed at those who have completed the Beginners course previously and would like to enhance their Italian language skills.
Those interested in taking part may contact Julianne on 011 5588875 or email julianne@chamber.lk. The successful conclusion of the programme will see participants being awarded with a
valid certificate.