---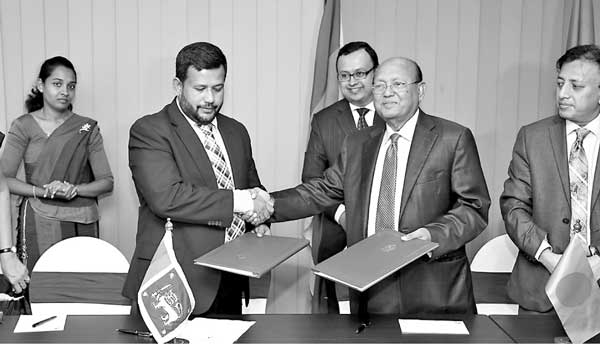 Sri Lanka Industry and Commerce Minister Rishad Bathiudeen and Bangladesh Commerce Minister Tofail Ahmed (second from right) exchanging the agreed minutes of the fifth SL-B'deshi Joint Economic Commission session at Cinnamon Lake Hotel on November 9
The first-ever Sri Lanka–Bangladesh free trade agreement (FTA) is to be a reality by next March and both countries, being members of the SAFTA, APTA and BIMSTEC are positioning for a huge cross-border cargo transshipment increase via the Port of Colombo.

"My visit to Colombo is fruitful. The Sri Lanka–Bangladesh FTA can become a reality when Sri Lanka's high-level leaders visit Dhaka next March," said Bangladesh Commerce Minister Tofail Ahmed on November 9 in Colombo. Ahmed was addressing the press at the conclusion of the fifth SL-B'deshi Joint Economic Commission (JEC) at Cinnamon Lake Hotel.
The ministerial level session was led by Ahmed for Bangladesh and Industry and Commerce Minister Rishad Bathiudeen for Sri Lanka.

"Today both sides completed trade discussions successfully. The cordial discussions to come to an agreement on an FTA between both countries was preceded by my discussions on the same with three other Sri Lankan ministers in the last few days while I am in Colombo," said Ahmed. "The Shipping Ministry of Bangladesh is also cooperating in this. We decided to use the Colombo Port in our future transshipments as we feel the other regional ports to be expensive. The current trade levels are not high but will be increased," he added.
Through its feeder vessels, Bangladesh already transships to the US and Europe via Port Kelang, Singapore and Colombo. Transshipments to Europe, the Middle East and the US via the Colombo Port is considered to bring in great savings for Bangladeshi exporters, saving as many as four shipping days to the US alone.
Last month (October 2016) Bangladeshi media reported that Shipping Minister Shahjahan Khan's announcement that Bangladesh would sign a priority berthing and tariff concession pact with Sri Lanka, linking its Chittagong Port with Colombo.
The total bilateral trade between Sri Lanka and Bangladesh at US $ 48 million in 2010 has grown by 2.7 fold to US $ 131 million by 2015. Sri Lanka's exports to Bangladesh too saw a steady increase in the past five years. In 2013, it recorded the highest increase of 45 percent (compared to 2012).
The first SL-B'deshi JEC session was held in 1985 in Dhaka.