---
Sanasa Development Bank PLC (SDB bank) reported strong financial results for the lender's third quarter ended on September 30, 2020 (3Q20), the interim financial accounts released to the Colombo Stock Exchange showed.
The bank reported earnings of Rs.5.16 per share or Rs.296.1 million for the quarter under review, compared to a loss of 98 cents a share or Rs.55 million reported for the comparable period, last year.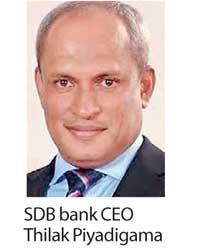 "With the resurgence in COVID-19 cases towards the latter part of September and the resultant stifled economic climate, the bank's performance is indicative of the adaptable and innovative nature of their setup," an SDB bank statement said.
For the first nine months of the year, the bank reported earnings of Rs.675.4 million, compared to Rs.96.3 million reported for the same period, last year, reflecting a 60 percent year-on-year increase in profits.

The bank's total comprehensive income for the period was Rs.603 million— as opposed to Rs.50.9 million a year ago— just shy of the Rs.628 million profit target of the bank.

The bank's asset base grew 15 percent from the beginning of the year to Rs.123.6 billion while its loan book grew 15 percent or by Rs.13 billion to Rs.98.6 billion. The deposit base of the bank grew 23 percent to Rs.89.2 billion.

"The bank continued its heavy focus on offering unique savings and wealth creation initiatives to its sizable MSME customer base, allowing for their continued well-being right through the pandemic-affected period," the statement said.

As a large percentage of SDB bank's shareholder makeup is composed of the island's significant rural and cooperative populations, all the profit earned goes right back to this vital segment of the national economy.

With SDB bank further cementing its standing as the market leader in the all-important MSME segment, while recording a profitability increase and a high growth rate, the bank is well-placed to finish the year on a high note with an equally strong display in the final quarter of 2020.