---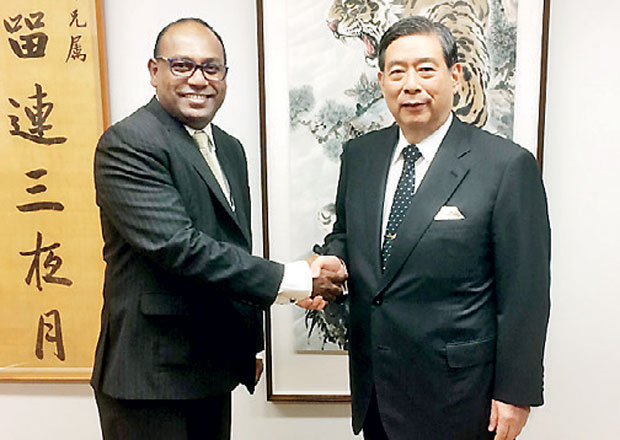 SBI Holdings Representative Director, President/CEO Yoshitaka Kitao and Wealth Trust Securities Director Consultant, International Markets, Viraj Malawana, concluding the transaction in Japan

Tokyo-based SBI Holdings has entered into an agreement to acquire 20 percent of the shares of Sri Lanka's Wealth Trust Securities Limited (WTS).

WTS is a licensed primary dealer in government securities appointed by the Central Bank of Sri Lanka, with direct access to both the primary and secondary government securities markets, and has the ability to participate in the issuance of local and foreign currency-denominated bonds.
A SBI-WTS media release said the deal will also entail SBI Holdings providing investment products, primarily Sri Lankan bonds to the Japanese market through its subsidiary, SBI Securities Co. Ltd., headed by Representative Director and President Masato Takamura.

WTS ranks among the top five primary dealers in Sri Lanka with an eminent board of directors led by Dr. Anura Ekayanake (Chairman), Dammika Ranawana (Managing Director) and directors Mangala Boyagoda, Senaka Weerasooria, Ruwan Cooray and Viraj Malawana functioning as consultant, international markets for the company. The company also possesses a broad customer network that has been built through long-standing operation as well as an exemplary research department, which publishes market reports in the leading newspapers in addition to providing its customers with in-depth and prudent market analysis.

"The SBI Group intends to collaborate with WTS to promote Sri Lankan government securities and corporate debt as high-yield investment instruments to Japanese investors through SBI Securities," WTS statement said.

"This partnership with WTS comes after the Japanese conglomerate showed keen interest in marketing Sri Lankan government securities and corporate debt to its vast portfolio of clients in Japan," it added. The Sri Lankan bond market is showing aggressive growth from its relatively small scale which heralds an optimum time for SBI to enter the market.

The SBI Group has previously acquired a stake of First Guardian Equities Pvt. Limited of Sri Lanka and is currently promoting equity transactions on the Colombo bourse to its Japanese clients.
With this recent acquisition, SBI Securities is poised to be a prominent player in both the debt and equity markets.